Stats
Chelsea & Alonso defy statistics to overcome Tottenham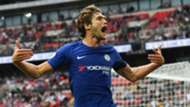 Tottenham's Wembley woes continued on Sunday as they suffered a 2-1 defeat to Chelsea at the home of English football. Some may argue that manager Mauricio Pochettino has still not suffered a true 'home' London derby defeat, but it was a result that threw into focus how much Spurs have to achieve this season if they are to win the league.
It was a fixture that the Lilywhites actually dominated but it was the efficiency of their opponents, and more specifically left wing-back Marcos Alonso, that decided the game in the guests' favour. 
Indeed, in a match in which Tottenham mustered 18 efforts on goal against just nine from their opponents, it spoke volumes of their finishing that they required an own goal from Michy Batshuayi to break their duck.
At the other end of the field, Alonso scored two contrasting goals. His first was a magnificent free-kick that left Hugo Lloris helpless, yet the France international shot-stopper was badly culpable as the Spaniard scored the winner with just a couple of minutes left. Those were the only efforts on target the guests had.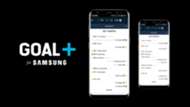 Of course, luck counted against Spurs, and Harry Kane in particular. The England man is still seeking his first ever Premier League goal in August and has rarely come closer than he did when he struck the Blues' upright. He and his team-mates mustered nine efforts on goal without beating Thibaut Courtois. 
On every conceivable matrix, Tottenham dominated this match, from ball possession to territorial advantage. They completed more than twice as many passes as their opponents for a far higher accuracy and won a staggering 14 corners to four.
They offered a well-balanced attack, probing down the left and right, though offering a slight bias to the centre, where 36 per cent of their attacks came from. In contrast, Chelsea primarily went down their right, though on an afternoon that entirely defied the numbers both of their goals came from a left-sided player. 
Little wonder, then, that Pochettino lamented the outcome of the match come full-time. Play like that and the results will surely start to come for Spurs, but there is little doubt that Sunday's defeat represents an early blow to their league-winning credentials. 
All stats featured in the article came courtesy of the Goal+ app, exclusive to Samsung devices. Download the most cutting edge football app now!