African Nations Championship
Charles Taylor blames Maxwell Konadu for Chan disappointment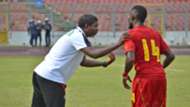 Former Ghana midfielder Charles Taylor has taken a swipe at Black Stars B head coach Maxwell Konadu after failing to qualify the team to the 2018 African Nations Championship holding in Kenya.
The home-based Black Stars lost 2-1 to Burkina Faso at the Baba Yara Sports Stadium on Sunday despite picking a 2-2 draw in the first leg. Taylor insists the team lacked defensive midfielders to protect the back-four.
"If you make bad selection, this is the result you will get because the team on Sunday lacked quality players," Taylor told Metro FM.
"Ghana didn't play productive game to merit qualification. Our team didn't have any good defensive midfielder to win possessions so we allowed Burkina Faso to play freely and that is what did the magic for them.
"None of Ghana's midfielders tackled well in the return fixture. The game is not only about passing, you will need good tacklers also to break down opponent's attack. Our leaders and the coach are seriously destroying our football with nepotism.
He added: "It is not that we have bad players in the Ghana Premier League but this is the case where the good ones are not called to the national teams."
Ghana last made an appearance at the tournament in 2014 after failing to qualify against Cote d'Ivoire also in 2016.
Coach Konadu has ruled out stepping down from his post.