African Nations Championship
CHAN Group D preview: Cameroon vs Burkina Faso, Angola vs Congo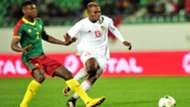 Following an abysmal performance by Cameroon in the 2018 Championship of African Nations (CHAN) despite being led by former defender Rigobert Song, there is only one slot left to be won for a place in the quarterfinals since Congo's fairytale run seems not ending any time soon.
The Red Devils have so far raked six points from two games, scoring three goals without conceding any and topping Group D. They will hope to achieve a flawless run in the competition with another win when they take on Angola at the Stade Adrar in Agadir on Wednesday.
Angola, on the other hand, have to avoid a defeat since a stalemate, regardless of the scoreline, will confirm them as runners-up ahead of Burkina Faso who are also billed to take on 'whipping boys' Cameroon at Stade Ibn Batouta in Tangier.
Although, Cameroon are out of the competition and their coach Song disappointed, the former defender will hope to save his side's blushes with a respectable results against Burkina Faso as he hopes for the best in the future.
"We made some mistakes during the match and that's normal because the players are still learning," Song told Cafonline.
"I am happy with the performance of the players who have given their maximum. I will continue to work with them to make progress.
"On the other hand, I am disappointed by the cruel end. We're eliminated from the tournament and it's a huge disappointment," he added.
With 2014 champions Libya qualifying to the last eight following a late winner against Rwanda on Tuesday, they're likely to face Congo while Nigeria take on either Angola or Burkina Faso depending on who finish second in Group D after the last round of matches.
The two quarterfinals are scheduled for January 28.