PSL
Carelse: Parker and Tshabalala are still important to Kaizer Chiefs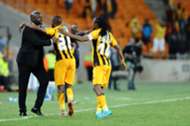 Former Kaizer Chiefs defender Martin Carelse believes that the recall of players like Siphiwe Tshabalala and Bernard Parker among others is what led them to revive their PSL campaign.
"I think it was a wise decision to bring players like Shabba back because I think when the chips are down, you need to get the experienced players like him," Carelse told Goal.
In relation to Parker, he has returned to the starting line-up with ease - following his goals against Polokwane City and Golden Arrows.
"When I watched the game where he scored (against City), I realised that if they can play the balls inside the box, he is going to score and that's what he did," Carelse said.
Carelse believes the onus now is on the likes of Tshabalala and new boy Joseph Molangoane to bring the balls to Parker inside the box from out wide areas like they did against City and Arrows.
"It's just that at times he doesn't get the supply, but he knows how to score," the retired defender continued.
''He tends to get frustrated with the balls not getting to him into the box that's why you also find at times he gets into the midfield to pick up balls because of the lack of service he receives up-front," added.
"But if Shabba and Molangoane can supply him with the balls in the box, it will be better for him because he will convert the chances," Carelse concluded.