PSL
Cape Town City star Teko Modise in hot water for alleged failure to submit tax returns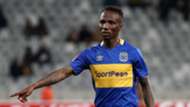 Cape Town City star Teko Modise has found himself in hot water with the South African Revenue Service (Sars) for his alleged failure to submit his tax returns.
The 35-year-old who has turned out for some of South African football's biggest clubs, the likes of Orlando Pirates, Mamelodi Sundowns and now the Citizens, is reportedly on a list of 10 people who have allegedly failed to declare their returns.
This is the latest saga involving the former Bafana Bafana star's financial wellbeing.
Modise, who is no stranger to financial issues, previously lost his Johannesburg home after failure to keep up with repayments.
It has also been reported in the past that the midfield general blew R22 000 a month on repayments of his R2 million Aston Martin DB9.
Nonetheless, the veteran's latest alleged antics is undoubtedly his most sinister yet. 
According to South African law, failure to submit tax returns is a recognised as a criminal offence.
Speaking to Fin24 on Monday, Sars spokesperson Janine Mqulwana confirmed the list of reported offenders.
Along with several others, mostly businessman, Modise has been named and shamed, and reportedly been fined for failure to submit his returns.
The report further explains that the alleged offenders were all fined between the regions of R2 000 and R20 000 as admission of guilt fines were handed down by the court.
Modise, who has over 60 appearances for his national team, albeit his last appearance coming in 2012, is part of a clamp down by Sars on non-compliance.
Meanwhile, as part of the tax administration act, the commissioner has the right to publish names of the alleged perpetrators, once the person has been convicted of the offence and an appeal or review process has been completed.