Campeones Cup
Campeones Cup the right idea at the wrong time for Toronto FC, Tigres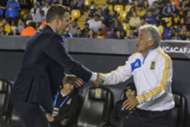 The Campeones Cup is a great idea and pitting the MLS champion against the Liga MX Campeon de Campeones generally will produce great results. Wednesday's contest between Toronto FC and Tigres, however, is an example of a game coming at the wrong time for both its participants, setting up an inaugural edition that may fail to resonate as strongly as it could have.
When the match was announced, it looked like a coming together of two heavy-hitters, two potential transnational rivals finally emerging in a confederation where competition has been dominated by clubs from one country. TFC had gotten one over on Tigres in the CONCACAF Champions League and surely would be a strong side facing a Tigres team eager for revenge. Instead, we're looking at a match between two teams putting more priority on what's coming this weekend than on the midweek game.
Toronto FC comes into the contest holding onto a bit of hope that the playoffs are still possible. For a team with as much talent (and that has spent as much money) as TFC, failing to get to the postseason would be an embarrassment. It's an embarrassment TFC could be set to suffer with this weekend's match against the New York Red Bulls another in a seemingly endless line of opportunities to finally right the ship and make a charge for the sixth spot in the Eastern Conference. 
Where does that leave Wednesday's game? Could there be motivation for TFC to get something out of the season? Maybe, but the Reds already lifted the Voyageurs Cup to book a return to the CONCACAF Champions League, so they can put a check next to 'put some sort of silverware in the trophy case' on the to-do list for the season. Playing his strongest team isn't an option for coach Greg Vanney, nor is dedicating valuable time to scouting a club he'll play in a one-off.
"I haven't much, in terms of their performances or their results. I looked at their roster just to see which guys were back," Vanney said of watching Tigres lately. "They certainly didn't get any worse, and added a couple more guys that will probably make them better. They're going to be as strong, and deeper, than they were when we faced them six months ago. It will be interesting"
Vanney has had less to do lately than Tigres boss Ricardo "Tuca" Ferretti. A lack of international trophies is one knock against Tigres, which otherwise has been one of the Americas' most successful teams in recent years. But with the Clasico Regio coming up Sunday against crosstown rival Monterrey, Ferretti knows fans would rather get another win over on their rival than top a team they rarely think about or hear from. Still, Ferretti said Tigres is taking this challenge seriously and the club has selected a traveling squad that backs up that theory with plenty of stars aboard the direct flight Tigres took Tuesday.
"I can't think about anything that isn't the game in Toronto," Ferretti said after Tigres' draw with Pachuca. "We're playing for a cup and we should take it seriously. Thursday I'll think about the next match that is coming."
Strong words from Ferretti, but are we really supposed to expect that Tuca has had time to draw up a detailed game plan for this contest?  Last week, he coached Mexico in two matches, then set up Tigres' game against Pachuca and has Rayados this weekend. Even a dedicated man only has so much bandwidth.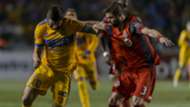 This type of match has big potential - and look out for an expanded version of the competition pitting more Mexican teams coming soon. Even then, you have to wonder if this is the best time for the match. If both teams were cruising along in their league fixtures, we wouldn't be having this discussion. Between TFC faltering this season and the rivalry match falling this weekend in Mexico, it was poor luck for the organizers.
Maybe a December match post-league finals could have even more buzz around it and guarantee in-form teams - but that could conflict with the Club World Cup and would likely rule out teams in Canada and the northern U.S. as hosts. Teams also want to get onto vacation after winning a trophy, but with just one more week of training, it could come off. Summer is out with so many international fixtures and any time at the start of the year puts the MLS team in the preseason.
Tweaks are needed, or maybe things will just come together better next time. Either way, it will be up to the teams on the field and their managers to inject some sort of spectacle Wednesday into a game that lacks prematch spark.