Premier League
Burned-out Wayne Rooney no longer capable of shutting up the haters
11:12 AM GMT+4
10/09/2017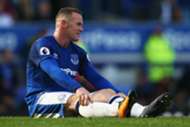 It's not the first time that Wayne Rooney has found himself at the centre of what has become a front-page tabloid sensation.
A couple of years back, footage appeared of the erstwhile England captain being knocked out in a late-night, impromptu boxing match at his home by close friend - and former Manchester United team-mate - Phil Bardsley.
Later that Sunday, Rooney was playing against Tottenham at Old Trafford. He delivered a stunning riposte to his critics that day. He scored and celebrated afterwards with the now iconic knockout routine.
Somehow you just knew that the irascible Rooney would have something like this up his sleeve. He planned the celebration because he knew he'd score.
International week prompted more pictures of boozing Rooney on the front pages of the newspapers than his former England team-mates on the back ones.
Here he was again in similar circumstances. A chance to beat back the critics - against Spurs at home in the Premier League - after being caught doing a very stupid thing. A chance to respond on the field after misdeeds off it.
But this is a different Rooney; depleted even more so than the player widely seen back in 2015 as a busted flush.
And it was shaping up to be one of those days even before kick-off.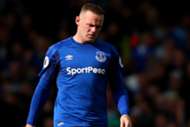 Rooney practised his finishing along with Everton's other attacking players to the side of the goal mouth in front of the Gwladys Street stand shortly before 3 o'clock.
He scored one out of his six attempts against substitute goalkeeper Joel Robles. Some he tried to curl and put wide. Some he tried to chip but he couldn't evade the Spaniard. He hit both posts with one. He smashed another in temper over the bar, beyond the safety net and into the stand's back row.
It was only a warm up but Rooney was reacting like he was missing shots for real. His head went down and it pretty much stayed there.
Spurs were on him straightaway. Toby Alderweireld got to him first, outmuscling him firmly in the first minute. Then Jan Vertonghen hammered him from behind. Neither was whistled as a foul, despite Rooney pleading for a free kick.
After the second challenge he beat the turf in frustration, his head growing pinker by the second. It can't have been easy for Rooney to bear up under this scrutiny. The travelling Spurs fans made sure he couldn't put the events of that Thursday evening out of his mind by taunting him with chants of "he only drinks when he's driving".
But he couldn't find that spark, that flash of temper that he once could channel into destructive, vengeful action.
He threw his arms up and berated Sandro for failing to make a run in front of his cross deep on the right wing. Harry Kane scored from a similar position shortly after.
Kane now is everything Rooney isn't. Young, confident, relaxed, fit… and expectant.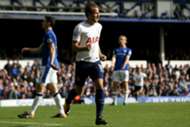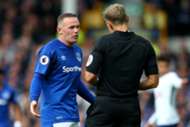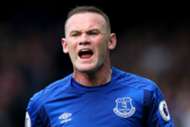 Everton were trounced here by Spurs. It could and should have been by more goals. Cuco Martina, the hapless right-back, will be blamed for the goals and chances which rained down from his side. But he got no protection whatsoever.
Rooney was named on the right side of the Everton attack – alongside Davy Klaassen and Gylfi Sigurdsson – but made no attempt whatsoever of covering his team-mate.
As such Ben Davies, Dele Alli and Christian Eriksen embarrassed the Curacao captain time and again with their movement and interplay.
The plot devised by Ronald Koeman to deal with Tottenham descended quickly into incoherence. His best weapons were the bombs launched by the left foot of Jordan Pickford to the balding head of Sandro up front. It's a shame because the ex-Barcelona man couldn't win a header even if he was there by himself.
Klaassen, Sigurdsson and Rooney are three medium-paced playmakers all competing for the same balls in the same areas. Koeman spent as much money as he wanted in those positions this summer and seems to have come up with a player too many. Right now it's not looking like Klaassen or Sigurdsson.
With seven minutes to go Rooney had a glimmer of a chance to score left-footed as Spurs dropped their guard. Stick it in Wayne, cup your ears and shut those Spurs fans up once and for all. A swing and a miss.
You could sense what was coming; that familiar temper was swelling, his chest expanding and contracting that little bit quicker and more heavily. Then bang. Close to the dugouts on a breaking ball, up in the air went Alli. It was only a yellow but Rooney did manage to leave his mark after all.