KPL
Bundesliga International keen to expand activities in Africa
who was in Germany courtesy of StarTimes
11:33 PM GMT+4
03/05/2018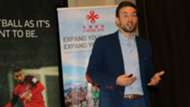 Bundesliga International has vowed to spread their wings across Africa in a move aimed at developing the game in the continent.
Against the backdrop of falling standards in leagues in Africa, mirrored in dependency on governors, low crowd attendances, non-existent sponsorship, poor remuneration for players and coaches, poor playing pitches, Africa is in urgent need of help from a top-flight league body like the Bundesliga.
The Manager, Sales, Europe and Africa of Bundesliga International, Henning Brinkmann, now says they are seeking to work closely with various African associations in a bid to take the sport to the next level.
"We are in the process of contacting African associations so that we can move as one people. We want Africa to feel the weight of Bundesliga and that is why we are keen to involve all the stakeholders," Brinkmann told African journalists, who were in Germany for a Bundesliga Tour, courtesy of StarTimes and Bundesliga International.
Brinkmann hinted that much of the collaboration with African countries will dwell on players and coaches' development, international friendlies and technical workshops.
"African players like Jay Jay Okocha, Sunday Oliseh, and Anthony Yeboah made the Bundesliga great to watch. They are part of the success stories of the Bundesliga and I am personally hoping we can help in some ways to develop the game in Africa.
"Clubs like Hoffenheim are doing things at that level but we are open to expand the frontiers especially as we are partnering with StarTimes to show the Bundesliga exclusively in Africa. It is a great way to go and we believe it will be a success story if this partnership can be solidified."
Meanwhile, StarTimes have revealed that they decided to buy the rights for the exclusive coverage of the Bundesliga because of the need to provide top matches at affordable rates to African viewers.
Having signed a five-year broadcast partnership to show the Bundesliga live across the African continent, Bundesliga has been penetrating into the homes of African viewers, who can easily afford  the pocket-friendly cost of StarTimes decoders and dishes.
StarTimes Overseas PR Director, Brand and Marketing, William Masy said the partnership with Bundesliga International has helped in redefining the broadcast football landscape in Africa for the general good of fans and viewers.
"We share similar ideas with Bundesliga and that is why we are in business together to grow the popularity of the game in Africa and give the fans the best value at the most affordable cost.
"We don't believe that fans have to pay through their noses to watch top games live on television and share in the belief that football should not be priced out of the reach of the masses."