Malaysia Cup
Brendan is back and ready to end former team's adventure
12:11 PM GMT+4
02/10/2018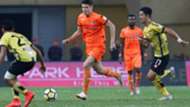 When Brendan first came to Malaysian football, his first stop was in Kota Kinabalu in Sabah to play for The Rhinos back in 2012 and now six years later, things come to almost a full circle for him. Perak have ended the dreams of PKNS FC and are now 180 minutes away from a return to Shah Alam Stadium to be part of the 2018 season climax - the Malaysia Cup final.
Sabah are the team in the way after they ousted Kelantan in the other quarterfinal and have been a real surprise in the competition as the Premier League side was not expected to make much of an impact. Yet, the fact that they are in the semi-final means that Jelius Ating's team will be no pushover.
Brendan together with Leandro dos Santos are forming a formidable partnership at the base of Perak's midfield, a combination that allows Wander Luiz to flourish in the more attacking central role right behind Gilmar Filho. He's looking forward to returning to Sabah but refused to take a place in the final as a certainty yet.
"It's a long time ago playing in Sabah. I had good memories there, a nice place to live and also to play football. As you can see in the Kelantan game, the fans came out in force and hopefully Perak fans can also do the same thing for us."
"It's going to be difficult whoever you play. These days in the Malaysian league, everyone is very even. It comes down to the game on the day. Some great teams can get beaten. It's about who turns up and who can perform to the occasion. Just making the semi-final is making this year such a great year for us," Brendan told Goal.
The 0-2 win achieved over K. Rajagopal's team was the first time this season that Perak have gotten one over The Red Ants in six meetings. Having lost three times and drawn the other two, Brendan and Perak were bent on setting the records straight.
In what was undoubtedly Perak's finest moment in the season, they completely outplayed PKNS from start to finish. The two goals scored by Wander only served to prove the dominance shown by The Bos Gaurus. 
"I didn't play the first two but of course it's a good feeling to finally beat them. The boys tonight were pretty happy with it. We just played a very controlled game, very smart about it. We didn't get emotional about the game and we played with our brains rather than our hearts," added Brendan.
It's been a remarkble return to playing football for Brendan after his long injury lay-off. He has earned his place as a permanent fixture in Mehmet Durakovic's starting line-up with the PKNS match being his seventh start in eight matches for Perak.
The ambitious Brendan will surely not want the season to end there and will be putting his best foot forward to ensure that Perak can bring home the trophy they last won in 2000 as well as capping that off with a call-up to the Malaysia national team for the year-end AFF Suzuki Cup.
Follow Goal Malaysia on Instagram