Transfers
Montreal Impact announce Blerim Dzemaili signing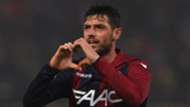 The Montreal Impact may be losing one designated player in Didier Drogba this offseason, but the MLS side already has another one lined up for 2017.
Moor, Marshall meet again in MLS Cup
Impact owner Joey Saputo confirmed Switzerland international Blerim Dzemaili will be joining the Eastern Conference finalist on a designated player in June 2017 in media conference Friday. Dzemaili is currently on loan from Galatasaray to Serie A outfit Bologna FC, where he has started 14 of 15 games this season.
READ | Swiss international @dzemaili86 to join Impact in the summer of 2017 >> https://t.co/fziWaoSbSd #IMFC pic.twitter.com/7x1rOCbpHz

— Impact de Montréal (@impactmontreal) December 9, 2016
"I'm not hiding it: Dzemaili's contract is a multi-year deal. He'll be in Bologna until June 2017, and he will then be transferred to Montreal," Saputo said. "He's not hiding that either. He's ready to come to Montreal."
While Saputo, who owns both the Impact and Bologna FC, mentioned the deal was multi-year, other terms were not disclosed.
Impact technical director Adam Braz went on to detail the role he imagines Dzemaili playing in Montreal.
"Dzemaili's profile is very interesting for our team," Braz said. "We see him as a hybrid central midfielder between a No. 8 and a No. 10. He has the physical capacities to play box to box, and one of his main strengths is his ability to make late trailing runs in the box. He's an international player with a lot of experience playing at the highest level. He'll bring a lot to this group, not only on the field but also in the locker room with his experience."
The 30-year-old has netted one goal this season, after scoring three times in 27 appearances while on loan last season at Genoa. He has also been a regular starter for Switzerland, making the XI in four games at Euro 2016, and in three 2018 World Cup Qualifiers thus far. Overall, Dzemaili has been capped 55 times for his country.