Transfers
Black Leopards demand R2 million for Free State Stars linked Losciuto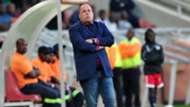 It was previously believed that Black Leopards' coach Jean-Francois Losciuto was headed for the exit door after he signed a three-year-deal with Premier Soccer League (PSL) club Free State Stars.
However, it has now been revealed that Ea Lla Koto could have a battle on their hands for the Belgian's services. According to SunSport, news of the coach's departure has not gone down well with club boss David Thidiela as he still has two-years remaining on his current contract with Lidoda Duvha, and subsequently Thidiela is now demanding R2 million from Losciuto.
"Thidiela is angry that Losciuto betrayed him when he signed a deal with Stars prior to their crucial play-offs games," a source told SunSport.
"He wants the coach to honour the remainder of his agreement with the club, or else Stars should buy him out of his contract." 
Another source revealed that Stars' owner Mike Mokoena, contacted Thidiela to resolve the issue, but it only infuriated the Leopards' owner further.
"Mike (Mokoena) phoned Thidiela in a bid to resolve the squabble. But Thidiela was angry and told him what they did was wrong. He said 'why take my coach without letting me know first?'," the source said. 
"Mokoena tried to defend their action and said 'things happen in football. Eric Tinkler joined SuperSport United and Cape Town City never fought with them'. This made Thidiela more angry," the source stated.
Meanwhile, Thidiela himself has stated that he was shocked by the way Stars have gone about the matter.
"I heard a rumour before the play-offs that my coach had signed with Stars, and I said to Mike 'what kind of friend are you who does this to me?," Thidiela said.  
"He's the last person I expected to do this to me. But he denied knowing anything. 
"He said he'd investigate and come back to me. I've been waiting for his call since. 
"I'm shocked because he's my best friend," he added.
Thidiela has now approached the coach's lawyer as he looks to resolve the matter. 
"I asked the coach about the rumour, but he bluntly denied signing with them," he said.
"I spoke to his lawyer, who was co-operative, and told him Jean couldn't go without following proper channels," Thidiela concluded