Africa Cup of Nations
'Bitterly disappointing' – Twitter reacts as Caf strip Cameroon of 2019 Afcon hosting rights
11:21 PM GMT+4
30/11/2018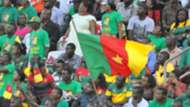 Mixed reactions have greeted Caf's decision to strip Cameroon of the hosting right of the 2019 Africa Cup of Nation.
The decision was taken on Friday following Caf Executive Committee meeting in Accra, Ghana.
Security and failure in infrastructural upgrades needed for a 24-team championship were some of the reasons given by the continental body.
Goal selects some of the best tweets on how football fans reacted to the news.
My understanding is that the fate of Cameroon's Afcon will be confirmed by CAF at 16h, with the executive committee currently meeting behind closed doors.

Bitterly disappointing for people of CMR if tournament taken from them, and major questions must be asked of CAF. #CAN

— Ed Dove (@EddyDove) November 30, 2018
Cameroon stripped of hosting rights for the 2019 Africa Cup of Nations, according to breaking reports. Only surprise is that it took this long to make this call.

Cameroon the proverbial child given a handful of burning coals by CAF and asked to carry it with care.

— Solace Chukwu (@TheOddSolace) November 30, 2018
🎥: Cameroon 🇨🇲 stripped off AFCON 2019 hosting rights after CAF executives held a meeting today at the movenpick hotel, Accra. pic.twitter.com/YZWuGbNjpR

— De-Graft Äyälä (@deGraftAyala) November 30, 2018
Cameroon should not cry foul following Caf's decision. They never looked like a serious host from day one.

— Shina Oludare (@sportingshina) November 30, 2018
I was really looking forward to this CAN in Cameroon. Too bad

— WILJEF (@Wil_Jeff) November 30, 2018
Cameroon lost rights to host AFCON 2019.
It'll be hosted in Morocco, I'm sure about that, and Cameroon will surprise you people if it's still going to play.

— NikiSelah (@nikiselah) November 30, 2018
Cameroon stripped of hosting #AFCON2019. Africa is full of surprises.

— i don't have a Goat (@MogauMosibudi) November 30, 2018
Since Cameroon will nolonger host the 2019 AFCON I feel it's time the tournament is taken to East Africa.

— Namuchana (@Namuchana3) November 30, 2018
I feel sorry for the people of Cameroon 🇨🇲. Stripping them of the hosting rights is not the best decision... I hope it doesn't affect African football. A joint hosting would have been better. #OneAfrica #Cameroon2019 🇨🇲

— Taiye Taiwo (@tayo_taiwo) November 30, 2018
CAF expanded African Cup of Nations from 16 Nation format to 24 Nations format. If anyone is to take blame for "non preparedness" of Cameroon to host the Tournament, CAF have a lion share of blame to take.

— QUINTESSENTIAL (@adekanye52) November 30, 2018