Transfers
Bernard Mang'oli among six released by Sofapaka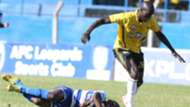 Former Kenyan Premier League side Sofapaka have parted ways with six players
Former AFC Leopards captain Bernard Mang'oli leads the group that also includes second choice goalkeeper Ruben Juma and Timothy Luda, Rodgers Aloro, Brian Magonya, Edmond Kwanya and Mathias Kigonya.  
Mang'oli joined Sofapaka in June 2017 but his chances in the first team squad were limited to just a handful of starts, partly due to injuries hat punctuated his short stay at the Eastleigh-estate based side.
Kigonya on the other hand table a request to walk away from the club after Sofapaka management allegedly failed to heed to his demands of a salary increment.
Sofapaka are having a break and will resume training early next month ahead of the new season set to kick-off on December 8.