Bengaluru 1-0 Maziya: Maziya Coach launches scathing attack on Sandesh Jhingan
Last Updated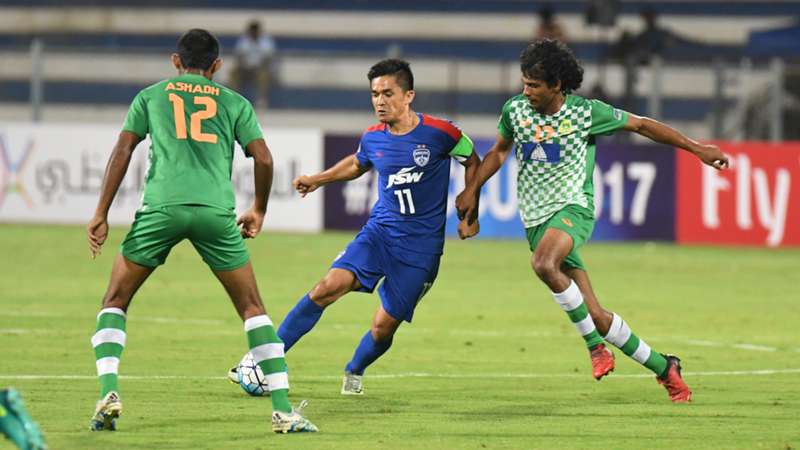 Bengaluru FC
Bengaluru FC skipper Sunil Chhetri scored from a free kick to net the only goal of the game as Bengaluru FC defeated Maziya 1-0 on Wednesday at the Kanteevara Stadium in Bengaluru to progress to the next round of the AFC Cup.
Both coaches had totally different views of the game after the match. Losing coach Marjan Sekluvoski felt his side put up a good effort against a very good side in Bengaluru FC.
"We played great against a great side. My players gave their all", said Sekluvoski. Speaking to the press after the game, the man from Macedonia cried foul about the way his lads were treated on the pitch and felt his side was denied justice on the day.
"I'm very sad today because we don't have the one thing that's very important in football - respect. Because the whole night the respect was for the opponent and not us", complained Sekluvoski.
AFC Cup 2017: Bengaluru FC 1-0 Maziya S&RC: Sunil Chhetri freekick sends Eagles through
The manager then targeted Blues defender Sandesh Jhingan for kicking his player, an incident that he felt deserved a red card.

"The Bengaluru defender [Jhingan] kicked our player and didn't get sent off. A red card there would have changed the game.In the dressing room my players are crying because they didn't see justice and fairplay. I am not saying anything about the referee. I'm talking about number 15 (Jhingan). He kicked our player today. He's a professional player, he is expected to be better than that. In Male also he did that 4-5 times. This is not acceptable."
Wednesday's loss to Bengaluru FC means Maziya are out of AFC Cup but Blues are through to the next round.