Barcelona
Barcelona's rotation woes continue as Lenglet red leads to Girona draw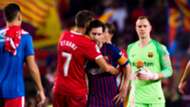 Rotate and suffer— or don't and burn out. This is Barcelona's Catch-22.
It was the same old story on Sunday for the Catalans, who struggled the first time Ernesto Valverde deviated from his regular side, dropping their first points of the season against Girona at Camp Nou in a 2-2 draw.
Barcelona moved back to the top of the league ahead of Real Madrid on goal difference, but will not be able to escape the feeling these were two points lost rather than one gained, even after Gerard Pique equalised with his team down to 10 men.
Last season, Valverde was blasted by the media for not rotating enough and leaving the team fatigued as the crunch games approached in the second half of the calendar, including the humiliating 3-0 second-leg defeat to Roma which saw them eliminated from the Champions League.
Having played PSV Eindhoven in the Champions League on Tuesday and with a trip to Leganes coming up on Wednesday in La Liga, Valverde chose this spot to rotate, to ensure his players stay fresh. Clement Lenglet and Nelson Semedo replaced Samuel Umtiti and Sergi Roberto in defence. In the heart of the park, Ivan Rakitic and Philippe Coutinho were benched for Arthur and Arturo Vidal.
On paper this seemed the right time for the coach to make changes, even though it was a Catalan derby. After all, Barcelona thrashed Girona 6-1 last season and their neighbours have not been as impressive thus far as in their maiden top flight campaign.
And yet one of the most painful defeats in recent Barcelona history came in a similar position, with their 2-1 tumble against minnows Alaves at Camp Nou in September 2016, when then coach Luis Enrique heavily rotated his team.
Lionel Messi and Luis Suarez started that game on the bench and were called for after Barcelona fell behind, but they could not stop the side from tumbling to defeat.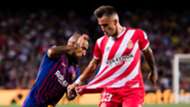 This time the rotation was not quite as drastic, both Messi and Suarez started against Girona, and the overall result not quite as bad. Yet it still leaves Barcelona with the feeling that their squad players must improve if they are to compete effectively on all three fronts this season.
Neither Arthur or Vidal stamped their mark on the game, though the latter did assist on Messi's opener. Semedo still lacks confidence at right-back, where Sergi Roberto is the first choice pick. However, it was Lenglet's selection which cost Barcelona the game.
With Valverde thinking ahead to the Champions League tie on October 3 against Tottenham, where Umtiti is suspended, the coach played Lenglet to get some minutes under his belt.
He only managed 35 of them, sent off after referee Gil Manzano checked VAR and decided the defender flung an elbow into Pere Pons's head with enough intention to merit an early bath.
In the minutes that followed Girona found their footing in a game which they had yet to make an impact on. Cristhian Stuani took advantage of a Pique error and Sergio Busquets looking lost as an emergency centre-back to level.
Umtiti had stripped down to come on but Valverde held back from making the change, perhaps determined to keep the Frenchman out of action as long as possible, and paid the price.
Even his presence in the second half couldn't stop Stuani netting a second, which potentially spelled an ugly repeat of the Alaves setback two years ago.
Though Pique's leveller ensured Barcelona would at least take a point with them this time, the La Liga champions are still left pondering if they are any closer to the solution to their rotation quandary.