UEFA Champions League
Barcelona would never come back from 4-0 down against Juventus - Dino Zoff
12:40 PM GMT+4
10/04/2017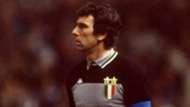 ---
EXCLUSIVE
---
Italy World Cup winner Dino Zoff believes Juventus have no reason to fear Barcelona in the quarter-finals of the Champions League and claims the Bianconeri would never concede a four-goal advantage as Paris Saint-Germain did against the Catalans in the last 16.
Barca beaten by Malaga and lose ground in title race
PSG thrashed Barca 4-0 at the Parc des Princes, but it was Luis Enrique's side that advanced to the next round after an amazing 6-1 win at Camp Nou last month. So will the Italian champions be intimidated by that historic turnaround when the two teams meet in the last eight?
"Not at all," Zoff told Goal in an exclusive interview. "Juventus also saw, as well as the comeback, the 4-0 win for PSG against Barcelona. So I don't think that result will amaze a team like Juve."
And asked if Barca would be able to produce a similar turnaround against Massimiliano Allegri's side, Zoff said: "I don't think so. Juventus have much more expertise in these type of ties than PSG. Absolutely not. Barcelona would never have come back like that against Juventus."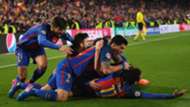 Barca beat Juventus in the 2015 Champions League final in Berlin in a 3-1 win which saw Luis Enrique's side claim the treble and Zoff sees the Catalans as one of the world's top teams two years on.
Griezmann denies Real in Madrid derby
"They are still one of the best teams in the world," he said. "It's true that some of the players have changed, but in attack they have the best - a headache for any defence. In any case, Juventus have gained a lot of experience since that final. Also in the final itself. They have brought in world-class players like Gonzalo Higuain and Sami Khedira, too. The team has grown a lot."
Zoff, who won the World Cup with Italy in 1982 and represented Juventus between 1972 and 1983, believes the strength of the Italian side lies in their collective and says his former club will be a tougher test for Barca than PSG.
"When we talk about Juventus, we have to talk about the block, not individuals. That has been the case for decades. And however much Barcelona want to win, this time they will be up against a really serious side."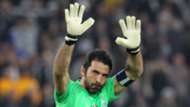 This tie sees Barca's Marc-Andre ter Stegen face another Italian goalkeeping great in Gianluigi Buffon and Zoff said: "I haven't seen Ter Stegen that much, but for me Buffon is still the world's most prestigious goalkeeper."
Romario: Neymar is world's best player
Ter Stegen plays behind Barcelona high defensive line and is very much a modern-day shot-stopper, but Zoff does not think the role of a goalkeeper has changed too much since his retirement in 1983.
"I played many games in similar circumstances to Ter Stegen and I have to say it was always a pleasure for me," he said. "I was never afraid that a high defensive line could compromise me. The defences I played with were formidable, just like Barcelona's. I don't think it has changed too much. Playing with your feet is still secondary, even if you can create a play. It's not decisive."
Only one goalkeeper, Russian great Lev Yashin, has won a Ballon d'Or and Zoff does not see that happening again any time soon.
"It's obvious that goalkeepers can be more decisive than forwards," he said. "But when you see that in this sport, there are players competing like [Lionel] Messi, [Cristiano] Ronaldo and [Zlatan] Ibrahimovic, among others, you understand that for a goalkeeper, it's impossible."