Selangor
Sathianathan's appointment by Selangor completes interesting coincidence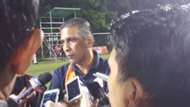 ---
BY        ZULHILMI ZAINAL       Follow on Twitter
---
Selangor have confirmed the appointment of Malaysia and Felda United boss Sathianathan Bhaskaran as their head coach on Thursday.
The Red Giants' social media accounts posted an announcement of a live streaming of an interview with their new head coach, to be held on Friday 3 pm Malaysian time. Bizarrely, Sathianathan was not named in the posting, while only a darkened photo of him was included along with the posting. However, it is evidently clear that the photo is of the 60-year old coach.
TEMUBUAL EKSKLUSIF KETUA JURULATIH FA SELANGOR DI FACEBOOK LIVE

Ikuti pengenalan rasmi & temubual ekslusif bersama ketua jurulatih baru Selangor FA secara LIVE di Facebook FA Selangor pada JAM 3 PTG ESOK, 23 NOV 2018.

Follow Facebook rasmi FAS di sini: https://t.co/24Mi9LYj8s pic.twitter.com/E6UuXsnnOb

— FA Selangor (@FASelangorMy) November 22, 2018
At Felda, he took them to a third-place finish in the 2017 Super League, before they were relegated to the second tier for licensing issues. They then finished the 2018 Premier League campaign as champions, earning a quickreturn to the top tier for the 2019 season. However, the Fighters' decision to reduce their wage bill, including his salary, prompted him to depart the club.
Interestingly enough, his hiring has completed a curious set of events.
He joins Selangor following Australian coach Mehmet Durakovic's decision to stay at Perak, despite the latter having come to an agreement with the Red Giants. Back in the 2014 pre-season, Sathianathan reneged on his decision to leave ATM FA to join Selangor, prompting Selangor to appoint the Australian, his first coaching job in the country. 
In addition to this, he had also been one of the candidates to take over at Perak, had Durakovic completed his return to Selangor late last month.
Follow Goal Malaysia 's Instagram account to see photos and watch videos from the AFF Championship!