Azam
Azam want another Yanga player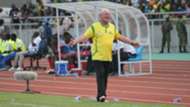 Azam will return to Yanga to sign Central Defender Andrew Vincente who is a free agent at the end of the season, Goal can exclusively reveal.
The Ice Cream Makers are also close to completing the deal to sign Yanga striker Donald Ngoma on a one year deal after the player agreed to the move last weekend.
However, finalizing the Ngoma deal will not stop the club spending more money to sign other players during the upcoming transfer window.
Speaking in Dar es Salaam on Saturday, Azam spokesman Jaffar Idd said that they need to improve their squad ahead of next season and they will sign more players after the Ngoma deal.
Goal has learned that, in-coming Azam Boss, Hans van Pluijm is eager to tie down deals with some of the players he worked with at Yanga.