MLS
Atlanta United earns MLS playoff spot thanks to D.C. United draw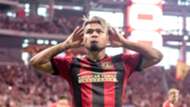 Atlanta United's spot in the MLS playoffs is assured thanks to D.C. United's draw with New York City FC on Saturday. 
A late free kick from David Villa was enough for NYCFC to earn a 1-1 draw on the night, with Atlanta only needing United to drop points to be sure of a playoff spot. 
Atlanta is now the second team to earn a playoff spot for 2018, following the New York Red Bulls. 
Those two sides are fighting it out at the top of the Eastern Conference standings, with NYCFC following five points back of Atlanta and six back of the Red Bulls. 
Western Conference leader FC Dallas also is sitting on 49 points, level with NYCFC, with all four sides still in the race for the Supporters' Shield. 
Atlanta returns to action next Saturday against the Colorado Rapids while the Red Bulls face a trip to take on D.C. United. 
In what could be the decisive match in both the race to top the Eastern Conference and the Supporters' Shield, the Red Bulls and Atlanta United square off on Sept. 30 in New York. 
The top two finishers in each conference earn a first-round playoff bye.