Transfers
Asensio eyes Real Madrid's Ronaldo role amid exit talk and Hazard rumours
11:41 AM GMT+4
22/11/2018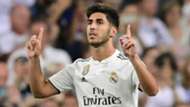 Marco Asensio sees his future at Real Madrid, despite what mounting transfer talk may suggest, with there a desire on his part to follow in the footsteps of Cristiano Ronaldo.
The 22-year-old playmaker has taken on a more prominent role at the Santiago Bernabeu, with his ongoing development allowing him to become a key creative influence.
He has passed the 100-appearance mark for Madrid this term and is among those the Blancos are looking to for attacking inspiration.
Somebody is required to fill the void created by Ronaldo's summer departure to Juventus, with a new talisman being sought, and Asensio believes he is the man for the job.
"Why not, for sure," the Spain international told Marca.
"At the end of the day, of course I want to continue to be successful at Madrid, I want to be important here, I have never hidden from that.
"I have been a Madridista since I was young, I always wanted to play for Real Madrid and now that I have the opportunity to be important here I want to take it."
Quizzed on the position he would like to play in order to become Madrid's on-field leader, Asensio added: "I won't lie, my favourite is 10 and whenever I've been able to I've worn that.
"Now it's in the hands of Luka [Modric] who still has many years ahead at Real Madrid but of course I would like to have it in the future."
With Asensio facing competition for his preferred role and Madrid having endured a testing 2018-19 campaign to date, it has been suggested that more sales could be on the cards.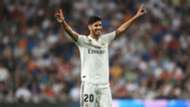 Reports have claimed that Asensio may be tempted to follow Ronaldo to Juventus, but he insists there is no substance to the rumours as he has never looked for a move or received any offers.
"No, they don't come to me," he added.
"That's for my agent. I don't think about anything other than focusing at Real Madrid. I have made it clear that I want to succeed at Real Madrid and continue here."
While eager to stay put, Asensio could see more top talent drafted into his area of the field during upcoming transfer windows.
Talk of a big-money approach for Chelsea star Eden Hazard refuses to go away, with the Belgian considered to fit the 'Galactico' mould.
"It's speculation. We will see if anyone comes, but right now it's just speculation," Asensio said as he seeks to focus on the present and ignore the incessant rounds of gossip in the Spanish capital.