Arsenal
'Arsenal were in decline' - Emery rebuilding after Wenger's loss of defensive structure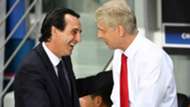 Unai Emery feels the Arsenal side he inherited from Arsene Wenger were "in decline" from a defensive point of view.
The Gunners enjoyed 22 years under their former coach, with Premier League title triumphs and FA Cup successes savoured along the way.
It was, however, decided that a fresh approach was required over the summer, with the managerial baton handed to a Spaniard who had previously impressed at Sevilla and Paris Saint-Germain.
Emery has embraced a rebuilding project in north London, with Arsenal currently on a 16-game unbeaten run, but he admits there is much work to be done when it comes to tweaking the mindset of a team that had been placing too much emphasis on attack and not enough on being difficult to beat.
"Before Wenger came, Arsenal celebrated 1-0 and were based on defensive solidity," Emery told Marca.
"With Arsene, joy came from attacking, with players of good standing. And the perfect combination was the Invincibles [of 2003-04].
"But over time, only technical quality and offensive freedom were taken care of, losing the defensive structure.
"What I want is to unite both essences and be more competitive. Arsenal was in decline. We had to stop it and start climbing."
He added: "I want to make a team that knows how to play with spaces, to be able to counter-attack, or without space, look for how to generate it. 
"We are trying to create an idea, a style, be competitive. 
"We are coming from an Arsenal that did not win against the top six. Although this year we have not done it yet either, it was also difficult for us to win away from home and we have already improved there."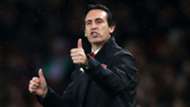 Emery did not seek much input from Wenger before opening his reign at Emirates Stadium, with there a desire on his part to implement a completely clean slate.
Asked if he spoke with his predecessor before taking on the Gunners job, Emery said: "Not about the team. I met once with him, and little else.
"I respect him a lot, but no matter how much info he gave me, I had to change things.
"I told the players: 'We are starting at zero'. Even now, four months later, I still say it: 'We are in the beginning!'"
Emery will see his Arsenal side return to domestic action on Sunday when they travel to Bournemouth.