Transfers
Arsenal need to forget about Mbappe and stump up the cash for Lacazette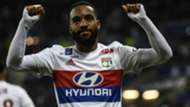 ---
COMMENT
---
Arsenal have, apparently, seen an £87 million bid for Monaco sensation Kylian Mbappe knocked back.
If such an offer really was tabled, then the Gunners' ambition is to be applauded.
You do, however, get the feeling that this is all part of some elaborate PR stunt at Emirates Stadium to keep supporters happy and believing that this year things really will be different.
Arsenal fans have learned the hard way down the years to hope for the best but expect the worst when it comes to transfer windows.
Various names will be offered up each time the opportunity to bolster the ranks rolls around, but more often than not the deadline will pass with frustration overriding any feeling of optimism.
There have been big-money deals, with Arsene Wenger loosening the purse strings a little, but more could certainly have been done and a fifth-place finish in 2016-17 has highlighted those failings in the most painful way possible.
A reluctance to break the bank could be forgiven – almost – with Champions League on the agenda every year, with a standing among the European elite ensuring that Arsenal remained an attractive proposition to potential new recruits.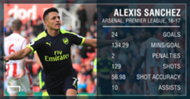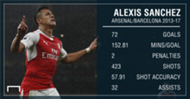 Now, though, Thursday night football in the Europa League will be a harder sell to the very best in the business.
Why would Mbappe, with the world at his feet and the biggest clubs on the planet queuing around the block to secure his signature, opt for Arsenal over Real Madrid, Barcelona or Paris Saint-Germain?
Privately, those at the Emirates probably acknowledge as much and will have been aware that their reported offer for the teenage forward was always going to be given short shrift from both selling club and player.
'Lacazette would be great for Arsenal'
If they were looking to prove a point, then they have done that and must now move on.
Mbappe is not a realistic target and the Gunners should be turning their attention towards those who could be talked into taking on a challenge in north London if the right terms are presented.
Such approaches should be made quickly as well, with it important that Wenger – who still needs to convince a large portion of the Arsenal fan base that he is deserving of the new two-year contract signed on the back of another FA Cup triumph – avoids another late scratch around for impulse buys with the deadline looming.
Among those he should be making a concerted effort to bring on board is Lyon striker Alexandre Lacazette.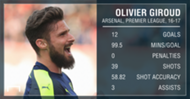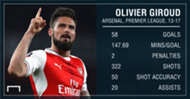 The France international has registered on the Arsenal radar for some time now, but there have always been stumbling blocks.
That is no longer the case, with the 26-year-old having decided that the time is finally right for him to leave his hometown club and prove that he can be just as prolific outside of his comfort zone.
Lyon are playing hard ball, having seen Atletico Madrid's transfer ban scupper their plans to do a deal with the La Liga outfit, but club president Jean-Michel Aulas continues to send out mixed messages.
Europe's top scorers in 2016-17
Pressed on the subject of Lacazette's future at the recent unveiling of Bertrand Traore, he said: "Today our position is that as long as we have not signed his replacement, we will keep him."
Moments later, he countered that with: "He wants to leave. We will discuss it in the coming weeks. If so, offers will be heard, provided they match the value of the player."
He has previously commented on said value: "Everyone knows Atletico were going to pay €53m [£46.4m] plus €12m [£10.5m] in add-ons. That's €65m [£56.9m]."
So, put £57 million on the table and Lacazette is yours – unlucky Atletico, next time try playing by the rules.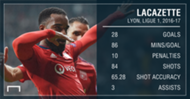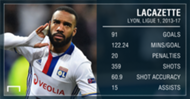 That should be Arsenal's mindset, and Aulas has hinted that Wenger and Co. are edging towards that way of thinking, saying: "Arsenal is ready to pay for Lacazette. I saw Arsene during the match between France and England. I was with Gerard Houllier [Lyon advisor] and I understand he [Wenger] told Gerard that there could be an interest from Arsenal."
Interest is one thing, a formal approach quite another.
Now is the time to stop dilly-dallying and force Lyon's hand, with it clear from the numbers scattered throughout this article that Lacazette could be the out-and-out frontman that the Gunners are crying out for.
Ox would welcome Lacazette deal
With there also a very serious threat that Alexis Sanchez could move on this summer, it is imperative that Arsenal find suitable cover – not only on the goal-scoring front but in the movement and energy stakes.
Lacazette ticks all of the right boxes.
He may have built his reputation as a predatory frontman, one with an enviable record from the penalty spot, but he is about much more than that and should slip seamlessly into a fluid system at the Emirates which offers freedom to drift wide or drop deep and keep opponents guessing – much like Alexis.
Lyon may be reluctant to sell, but money talks and if Wenger really was prepared to spend £85 million-plus on Mbappe, then why not stump up the cash for Lacazette while leaving enough in the pot to address another supposed deficiency in a different area of the field?