World Cup
Are you excited for the World Cup in Russia?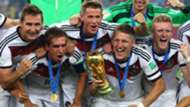 We want your thoughts on the World Cup!
Next year will see the tournament head to Russia for the first time but what we want to know is: are you excited for it? Please consider taking a few moments to help Goal out by taking our survey.
document.write('');