Germany
Are Germany the best international team ever? Ranking history's best nations
10:00 AM GMT+4
07/07/2016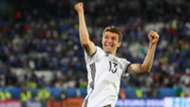 Germany are set to play their sixth consecutive major tournament semi-final on Thursday, battling with hosts France in Marseille.
The world champions are certainly no newcomers to international success. But, when the numbers are crunched, where do Germany rank in the top 10 greatest national teams since the World Cup began in 1930?
In calculating who the best international team in history is, Goal gave the following points allocation…
World Cup – 4 for final win, 3 for runners up, 2 for semis, 1 for last eight
Euros – 3 for final win, 2 for runners up, 1 for semis
Copa America (last 14 editions) – 3 for final win, 2 for runners up, 1 for semis.
---
RANKINGS 10-6
---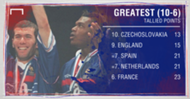 Czechoslovakia won one European Championship and reached two World Cup finals before splitting into two nations, Czech Republic and Slovakia, after World Cup 1994.
England's only final was the World Cup they won on home soil 50 years ago, but they rack up the points with a handful of quarter-final appearances and a couple of semi-finals.
Spain won the second Euros in 1964 then experienced a trophy barren patch until their ascent to greatness winning Euro 2008, World Cup 2010 and Euro 2012.
Level with la Roja on 21 points are Netherlands, whose Total Football team lost two World Cup finals in the 1970s and a third in 2010, reaching the semi-finals in 2014. Their only silverware success came at Euro 1988.
France's Euros wins in 1984 and 2000 are buffered by two World Cup finals in eight years (1998 and 2006). Away from those flourishes, it's been slim pickings for a team who unquestionably relish home advantage.
---
RANKINGS 5-1
---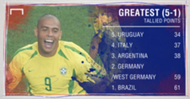 Uruguay won two of the first four World Cup finals (1930 and 1950). Their semi-final run in the 2010 tournament and a Copa America victory the following year were a reminder that they're not a faded force.
Italy are the fourth-most successful national team ever, having won the World Cup four times (1934, 1938, 1982 and 2006). They've not had quite as much glory on their own continent, winning just the one European Championship (1968).
Argentina edge into third by virtue of two World Cup wins (1978 and 1986), three World Cup final defeats (1930, 1990, 2014), and they have reached six Copa America finals since 1983.
Germany are a close second thanks to eight World Cup final appearances (four wins, four defeats) and six Euros final appearances (three wins, three defeats).
And the winner is… Brazil! The Selecao have won a record five World Cups (1958, 1962, 1970, 1994 and 2002) and five Copa America crowns since 1983.
However, should Germany win Euro 2016 then it will add three points to their tally, taking them to 62 points. Because the extra continental tournament would add Brazil's semi-final showing at the 1979 Copa America to theirs, it would mean the two great countries would share top spot.