WTF
Andre Villas-Boas in the Dakar Rally - Former Chelsea & Spurs boss' move into motorsport
10:40 PM GMT+4
02/03/2018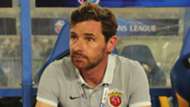 Football exists in such a bubble that it is sometimes easy to forget that those involved in the game sometimes have other skills or interests too.
Over the years, individuals who have forged an identity in the beautiful game have surprised fans and pundits alike by taking the road less travelled.
Some have gone and continue to go into politics, others try their hand at different sports, while a select few have even dipped their toes into acting.
In late 2017, former Chelsea and Tottenham manager Andre Villas-Boas took a surprise decision to go into motorsport by entering the world-famous Dakar Rally.
---
Who is Andre Villas-Boas?
---
For those who do not follow football that closely, Villas-Boas is a football coach from Portugal who has worked at the highest level in England, Russia, China and his native country.
Born on October 17 1977 in Porto, Villas-Boas rose to prominence within the game in 2010 when he guided Porto to a treble in his first season at the helm. He steered them unbeaten to a Primeira Liga title as well as winning the Portuguese Cup and Europa League.
Unusually for football managers, Villas-Boas' background in football did not include a career as a professional footballer and, after his impressive season, this inevitably led comparisons with his compatriot Jose Mourinho, who enjoyed similar success with Porto.
Those comparisons were further entrenched when he followed the same path as his forebear, joining Premier League side Chelsea in June 2011. However, Villas-Boas could not replicate Mourinho's exploits at Stamford Bridge and his time at the club lasted just one season.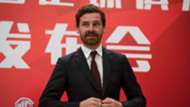 He was not out of work for long though and he moved to north London to steer the fortunes of Tottenham, where he fared somewhat better overall, but departed mid-way through his second season with the club struggling to challenge for a European finish.
Just three months had elapsed before he was back in a job as he moved to Russia to manage Zenit, taking over from Luciano Spalletti. Villas-Boas enjoyed some success with Zenit, winning the Russian Premier League, the Russian Super Cup and the Russian Cup.
He left Zenit on a high after winning the cup in May and his travels then took him to China, where he was appointed manager of Chinese Super League side Shanghai SIPG in November 2016. His time in Asia lasted only a year though and shortly after stepping down as manager of Shanghai SIPG he announced his intention to race in the 2018 Dakar Rally.
---
What is the Dakar Rally?
---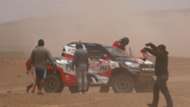 The Dakar Rally is an annual off-road race or 'rally raid' that is open to both amateur and professional rally drivers with three categories - cars, bikes and quads.
It began in the late 1970s and the original starting point was Paris, France, with Dakar, Senegal the final destination, hence the name. The inaugural rally took place in 1979 and the format of the event has been altered somewhat in the intervening years with the destinations changing.
While Dakar was the final stop in the race for the majority of its history, the starting points have often varied, with Barcelona, Lisbon and Marseille among the cities to be used as launch pads.
The race was cancelled in 2008 due to security concerns related to terrorist attacks in Mauritania the previous year and from 2009 on it has been held in South America.
The 2018 edition began in Lima, Peru, running through Argentina and Bolivia before concluding in Cordoba, Argentina.
With seven titles to his name, French rally driver Stephane Peterhansel is the most successful driver in the history of the race.
---
How did Villas-Boas do in the Dakar Rally?
---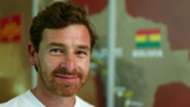 Not long after leaving his post as manager of Shanghai SIPG in November 2017, Villas-Boas confirmed that he would take part in the 2018 Dakar Rally in the car category, instead of the bike category.
He told Autosport: "I spoke with my friend Alex Doringer, the manager of the KTM team, who told me that I would still need a full year's preparation to get there [on a bike] and that it was better to consider doing it with a car. So I got in touch with Team Overdrive [Toyota] and here I am!"
His interest in the Dakar Rally stretched back into his youth and his uncle Pedro even raced back in the 1980s. "The Dakar was in my mind for quite some time. Racing runs in the blood of my family and my dream was to do the Dakar one day," Villas-Boas told the official Dakar Rally website. 
"The fact that it's the 40th edition and that I just turned 40 made me decide to go for it this year."
Villas-Boas drove a Toyata Hilux in the race, which began on January 6 2018 and his co-driver was his friend and compatriot Ruben Faria, who previously raced in the Dakar Rally's bike section.
Unfortunately, the Portuguese's Dakar debut was cut short after he crashed on January 10 during the fourth stage in Peru. The former Chelsea boss hit a sand dune and sustained a back injury in the crash, which required him to go to hospital and ultimately forced him out of the running.
Villas-Boas was two hours, 18 minutes and 15 seconds behind the leader after the third stage.
The race, which finished on January 20, was eventually won by Team Peugot's Spanish driver Carlos Sainz, who won it for the second time having previously won in 2010
---
Have other football personalities raced in the Dakar Rally?
---
Yes, while it caused some surprise, Villas-Boas is not the first figure from football to race in the Dakar Rally.
Former Real Madrid and France midfielder Raymond Kopa took part in the rally in 1985, long after he retired from playing.
France's 1984 European Championship-winning coach Michel Hidalgo also competed in the race and fared well enough, finishing 21st overall in the 1991 edition.
Interestingly, while he has not competed in the Dakar Rally, former Liverpool and Real Madrid goalkeeper Jerzy Dudek has gone into motorsport after hanging up his gloves. He has raced in the Volkswagen Castrol Cup, which is held in a number of venues in eastern Europe, including his native Poland.
---
What's next for Villas-Boas?
---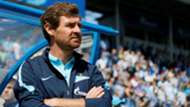 It remains unclear whether Villas-Boas will continue to take the wheel in motorsport or if he will make a return to football.
Having crashed out at the fourth stage and failed to reach the final destination he may feel that he has unfinished business in the race and enter again next year, but that is a long way away.
In the meantime, the 40-year-old has recently expressed his interest in the idea of managing a club in Germany, revealing his particular admiration for Bayern Munich in an interview with Sport 1.
"Bayern's quality is unbelievable and [they are] among Europe's elite, with wonderful players serving up magnificent football," Villas-Boas said, adding that "everyone around the world watches Bayern."