PSL
'An 18-team PSL league may not be the answer' - Booth reacts to Ajax Cape Town's court case win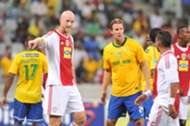 Former Ajax Cape Town defender Matthew Booth has shared his thoughts on the court battle involving the Mother City-based club and the Premier Soccer League (PSL) over the Tendai Ndoro matter.
Just over a month ago, the South African Football Association (Safa) in conjunction with the PSL, found Ajax guilty for fielding Ndoro in official matches. Ajax were docked points and they were subsequently relegated to the National First Division.
But the Urban Warriors were not about to give up without a fight, and immediately set in motion an appeal which culminated in a High Court ruling on Monday.
Once again, the upcoming 2018/19 PSL season has been thrown into disarray following the judgement which favoured Ajax.
However, there seems to still be no end in sight, with the judgement handed down suggesting that the ball is now in Fifa's court.
This leaves Ajax, who recently parted ways with the player in question, in a precarious situation.
Nonetheless, speaking exclusively to Goal, former Ajax star Booth, admitted that the most recent ruling leaves SA football as a whole in a rather difficult position.
"Once you take everything into consideration, it's one huge mess. Coming from Cape Town, I'd love to see as many Cape Town teams in the league as possible," Booth told Goal.
"So, from that perspective, it's positive for me. But as a reflection of our local game, it's not a very good one and one wonders what will happen now because it was initially sent to Fifa and they sent it back to us," the Sundowns legend explained.
"Now, it seems though that it has been sent back to Fifa again... hopefully it will get sorted out sooner rather than later," he expressed
Meanwhile as a former player, Booth sympathised with the players as they are forced to cope with the growing uncertainty regarding the club's future.
"It will affect them without a doubt, and it will take a very good man manager to try and keep them focused," Booth said.
"I think especially when you are tethering between the PSL and the NFD, there is a huge gap in status. So, it's certainly not going to be nice on the players thinking of a potential drop," he continued.
"It's very unsettling. Not knowing what their future holds is not good preparation," he admitted.
"Players want to know what's happening the next day. We are creatures of habit. So, it's not going to be good for the players," Booth stated.
With several other legal battles anticipated due to the consequences of Monday's judgement, there has been increasing talk regarding a possible league expansion from 16 to 18 teams, but Booth doesn't think it will be that easy.
"Well, I think there was probably not enough dialog right from the beginning when this issue occurred," Booth said when asked about a possible solution on the matter.
"Judging from the outside, it is very confusing and that's never a good thing because then people start to speculate," he added.
"It would be very simple to suggest that the league simply makes it 18 teams, but I think that could have big ramifications as well, which perhaps people haven't thought about." 
"So, they have many things to ponder but I just wish that the stakeholders and all those affected would just get around the table and chat sensibly about the way forward otherwise the league and the country will be held to ransom by court proceedings," Booth concluded.