Liverpool
Alexander-Arnold: Derby win will give Liverpool confidence for festive period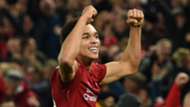 For a young Scouser, a born and bred Red, there could be no better feeling.
Liverpool's late, late winner in the 232nd Merseyside derby brought Anfield – seven-eighths of it, at least – to its feet. The celebrations which followed Divock Origi's 96th-minute strike in front of the Kop will be remembered for many a year. Jurgen Klopp has already received an FA charge for his.
As for Trent Alexander-Arnold, he was right in the middle of the mayhem, the 20-year-old home-grown star playing in his fourth derby, loving life. Some moment.
"You're not smiling!" Alexander-Arnold was told as he walked through the Anfield mixed zone on Sunday evening. The response was a grin wider than Stanley Park.
"I should be to be fair!" the youngster replied. "It's a great win for us and very important especially to do it that way. It was amazing."
On the celebrations, which naturally carried more feeling than they might have done against different opposition, Alexander-Arnold added: "Emotions get the best of you, especially in games like this.
"Everybody probably thought we'd settled for the draw but we've shown this season that we dig deep many a time and come up with the goods late on. We've done it again!
"It's something you dream of. It's very special to play in the Merseyside derby and especially win. It's one that all the players will remember for a long time and hopefully the fans will as well because we've dominated the fixture for so long and we've extended it.
"So it's something we've got to be proud of and hopefully it will give us momentum to go into this Christmas run, which will be tough for us, and hopefully we'll get a few more results like this."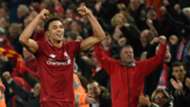 Alexander-Arnold is right about the dominance. Liverpool have now gone 16 derbies without defeat, with Everton entering a 20th year since their last win at Anfield. As fixtures go, this has been pretty one-sided of late.
Yet this was about more than local bragging rights – the win keeps Jurgen Klopp's side within touching distance of Manchester City at the top of the Premier League table. Just two points separate the sides, with huge games coming up over the next month.
The stakes are high, each and every week. Little wonder, then, that moments such as Origi's header, or Riyad Mahrez's penalty miss for City at Anfield back in October, feel so pivotal.
"They're massive," said Alexander-Arnold. "But it's important for us to stay in the game. Keeping a clean sheet gives us the foundation to go and do these things.
"It's massive for us. I think we've shown with PSG at home and then Chelsea away and now Everton – three times this season - that something that we're doing is staying in games and then producing in the last minutes."
The identity of the hero this time, of course, was unexpected. Origi was making his first Premier League appearance since the opening day of last season, and had not scored a goal of any kind for Liverpool since May 2017. He spent an unhappy campaign on loan at Wolfsburg and had looked certain to leave the club permanently in the summer.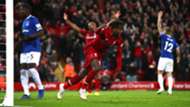 "He probably hasn't played as much as he's wanted to and not been in and around the squad," Alexander-Arnold said. "But the gaffer showed why he's still putting him in.
"He's come on and missed a massive chance but repaid us all with a goal last minute. After the miss it's easy to put your head down and settle for a point. But it's a credit to his character and his mentality to be in the right position.
"I think many people wouldn't have been in position to follow up but he's gambled and it has worked out for us."