A-League
Sydney FC star Adrian Mierzejewski's cryptic tweet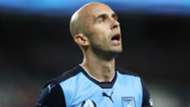 Reigning Johnny Warren medalist Adrian Mierzejewski has hinted at potential troubles over securing his future in the A-League with Sydney FC.
The Polish winger set the competition alight last season scoring 13 goals and assisting nine others to comfortably be crowned the A-League's best player.
With the Sky Blues locking down fellow star foreigners Bobo and Milos Ninkovic for next season, Mierzejewski has thrown a spanner in the works sending out this suggestive tweet.
— Adrian Mierzejewski (@adrianmierzej86) June 24, 2018
While on a three-year contract, it's been reported that the 31-year-old is after a significant bump in his wages after such a successful first season.
Sydney FC however may be hamstrung to some degree by the salary cap with the club's CEO Danny Townsend refusing to comment directly on the situation.
— Danny Townsend (@drt15) June 24, 2018