Opinion
African clubs must fight for greater social digital relevance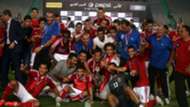 ---

COLUMNIST
Lolade Adewuyi 

Follow on Twitter
---
The place of African football in the digital age was highlighted by a major report this past week. The Global Digital Football Benchmarking Analysis, compiled by German company Results Sport, listed Egypt's Al Ahly as the biggest team from the continent courtesy of their fan base on social media platforms like Facebook, Instagram, Twitter, YouTube and Google+. The record African Champions League winners have a combined 16.8million followers on the five platforms.
They are followed by Cairo rivals Zamalek who have 8.5m, Raja Club Athletic of Morocco with 4.2m, and the South African duo of Kaizer Chiefs and Orlando Pirates with 4.04m and 2.5m followers respectively.
The list of the top 32 African teams on social media, as outlined by the Report, is heavily populated by Egyptian, Moroccan, South African and Tunisian teams. Congo DR has one team on the list (TP Mazembe – 389,895) while Tanzania has three (Azam FC – 600,239; Young Africans – 267, 340; Simba – 199,152); Kenya has two (Gor Mahia – 358,140 and AFC Leopards – 62,265); Ivory Coast (Sewe Sport – 162, 575 and ASEC Mimosas – 158,194); Ghana (Accra Hearts of Oak – 116,116 and Asante Kotoko – 88,910) while Africa's most populated country Nigeria has just one team on the list in Enyimba (69,091).
Africa's top 32 teams on social media, representing leagues in 11 different countries have a total of 42,727,277 followers.
But they are dwarfed by the might of Barcelona, the club with the highest digital footprint in the world. With 206.7million followers on its six major platforms including Periscope, the Catalan team has more than four times the following of the African clubs. On the heels of Barcelona are Real Madrid with 204.9m with English clubs Manchester United (111.8m), Chelsea (76.8m) and Arsenal (63.3m) rounding up the global top five.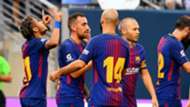 The social media power list is also representative of the richest football clubs in the world. It is no wonder that the richest clubs have a lot of resources devoted to creating content for their social media channels. Clubs like Arsenal have regular feature content involving fun moments with players on their YouTube channel during the offseason to keep their fans engaged.
Clubs are also employing innovative methods to grow their following. Barcelona sent out direct messages on Twitter in April as they looked to propel their Facebook page to 100m. They now have 200,000 above that mark four months after. It is important for them to do this so that they can have higher negotiating power with their sponsors like Rakuten who are currently running a video ad on their Facebook header.
"Social media's very high engagement platforms give the opportunity for organisations that have profiled online users who are passionate about football as a core of their target audience," says marketing expert Oyinade Olufemi-Osobajo. "One can also draw insights from the platforms to develop a meaningful theme and engaging digital campaign based on online user journey and behaviour."
Yet many clubs on the continent still do not perceive social media as an important aspect of what they should focus on. Having spoken to a few communications personnel of Nigerian clubs, I realise many are frustrated by the stance of club executives who see no importance in providing digital cameras for producing images and video content for their channels. Media officers are left with no choice but to use mobile phones to try to create and edit videos for their club's Twitter and Facebook.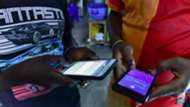 To compete globally, African clubs must bring focus to growth outside the pitch. As much as they play to win on the field, they need to realise that winning on social media is also an important measurement of their activities. Social media followers can help them understand their fans better and they can use the demographic data to manage their relationship. The data can also be used to negotiate with sponsors. A club can tell a brand: We have a core following of 25 to 40-year-olds who will buy your products if you become our partner. There's nothing more powerful when a club understands its fan base.
While many African clubs struggle with the European behemoths for television time, now they also must realise they have to compete over digital footprints. While it is free to set up, social media channels require proper strategies in order to achieve growth and make an impact. Clubs need to put in the proper investments to reach their desired goals. They must invest in media content in order to attract the millennials that are aching for interesting content on social.
For too long African football has played second fiddle to European football, this new social digital fight will continue for a long time. There were 700million active mobile phone lines in Africa in 2016, according to the International Telecommunications Union. That includes a lot of football fans worth fighting for.