AFF Championship
Tan sees no problem in letting charges have a little fun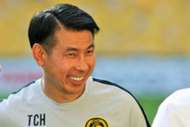 ---
BY        ZULHILMI ZAINAL       Follow on Twitter
---
The heavy rain on Sunday evening did not put a damper on Malaysia's training plans. Although the rain stopped just before they were supposed to train, the Islamic Science University of Malaysia pitch they have been using for training throughout the 2018 AFF Championship was still soggy to be used effectively.
Head coach Tan Cheng Hoe simply put his charges through simple touch drills, which his men relished. They could also be seen joking around with each other, having fun in general.
Following their semi-final win against defending champions Thailand earlier this week, the players also posted videos of themselves pranking each other. It's safe to say that their morale is now through the roof, ahead of their final tie against Vietnam, although one day earlier the Malaysian FA president Dato' Hamidin Amin has cautioned them against spending too much time on their social media.
Speaking to the press after Sunday training was over, Tan remarked that he has deliberately let the team have some fun.
"I'm letting it happen in order to relieve the pressure they have been feeling. They know that the expectations are high in the final, and they know how to absorb the pressure.
"What's more important is that they maintain their level of confidence," said Tan in response to a question by Goal.
He also provided updates on the squad's crock list, while telling the gathered reporters that he is reluctant to field those who have not fully recovered.
"There's one more day of training, and I need the team doctor's opinion on Aidil Zafuan. I want them at a 100 percent, unlike what happened earlier.
"Syazwan Andik remains a doubt, he's only recovered 80 per cent, but Safawi (Rasid) is ready. He has not complained of any pain anymore," explained the former Kedah boss.
Keep updated on the 2018 AFF Championship!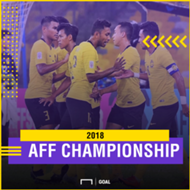 Follow Goal Malaysia 's Instagram account to see photos and watch videos from the AFF Championship!