AFF Championship
OKS: Malaysia have what it takes to beat Myanmar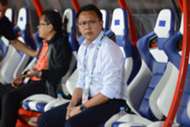 When I look at where Malaysia is right now in the AFF Suzuki Cup this year, it reminds me a lot of my time two years ago. Back then we also started the tournament by facing Cambodia and only won by a narrow margin. Like this year, we also lost to Vietnam next and went into the last match against Myanmar needing a win to get through to the next age of the competition.
Of course everyone remembers what happened next for us. But the situation has switched this time around. There are many varying factors but most crucial of all is the home advantage. Two years ago was different where we had to play Myanmar in front of their home crowd, and that was not easy.
This time it's the same scenario, but different venue where we got the advantage. I believe that we have the quality this time to beat Myanmar, or even other teams when we play in Malaysia. 
People ask me why I'm confident, the answer is simple - we have better players and they have been exposed to a lot of international games. Take for instance the Under-23 boys like Safawi (Rasid) and Akhyar (Rashid) who have been exposed to a lot of quality tournaments.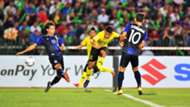 Senior players like Aidil (Zafuan) who has so many caps with the senior national team. (Mohamadou) Sumareh is a good player, Norshahrul (Idlan Talaha) and Apek (Khairul Fahmi) they have the experience. Especially when combining the senior and junior players, it's the right thing to do now and for me, I don't see any difficulty to qualify for the semi-final.
However it must be said that at the moment both Safawi and Akhyar have not shown their best capabilities yet. The last three games, I don't see them performing that well. I hope they peak at the right time, especially on Saturday. And if we go beyond that, I hope they can perform much better.
Right now it looks likely that the Bukit Jalil National Stadium will be sold out for this crucial match. For the team to reach the target of reaching the knockout stage, that is very important. That will motivate the players automatically. The moment you come out from the dressing room and see the crowd cheering for you, it motivates you immediately. We have to take this advantage and with the help of our fans, it has to give us more confidence going into the match.
This is the game that every player wants to play in. This is the game for me that will show our real character. If we can pass this stage, I believe that we can go further. But if we can't take this challenge, then there's something wrong with us. Most important is that the players are aware that this is a very important game and we need result. I don't see it as pressure and I believe the boys have the experience to handle a big expectant home crowd.
If we do well and go through, then I believe we have what it takes to go further because in semi-final and final especially, anything can happen. You look at our record. When we played Thailand in Kuala Lumpur, we beat them. Our result at home against strong teams are always very good, it really depends on what happen in the away match. The semi-final onwards is always a very different game.
The moment you qualify for the semi-final, the confidence gets a boost. The players know that they are the underdogs, not the favourites. So when they reach the next stage, the believe will increase another 50%. They have nothing to lose and that puts more pressure on the opponent instead of them.

Looking at the competition as a whole several teams look in contention. As I've said all along, Thailand remain one of the most impressive teams. They are a different level, they are doing very well despite not having their star players. It looks very easy for them against Indonesia, never mind the big result against Timor Leste.
The other teams who I think should be taken very strongly are Vietnam and Philippines. There's no need for me to explain why Vietnam are one of the main contenders. We all saw how they played against us in Hanoi and how well they did in reaching in the AFC U23 Championship final earlier this year.
Philippines have prepare this team very well. Before the tournament, they played a lot of friendlies against Middle Eastern teams and they got results. The amount of time they had for the preparation, I think is one of the best among the teams that participate.
Sven (Goran Eriksson) may have just joined the team but I don't think that's an issue for them. If you get someone who is inexperienced to come in just before the tournament then you might have a hiccup. But to get someone with a good CV and who has coached in the World Cup will always be better. They have good players and are improving from game to game. 
Indonesia are not consistent. They've only appointed the coach a week before the tournament. Even when they are playing in the Suzuki Cup, their league is still going on. It's hard to pinpoint where it went wrong for them. They lost to Singapore and struggled to beat Timor Leste.
Singapore have a good result against Indonesia at home but lost away to Philippines, consistency is also a problem with them. That said, they have a very good bunch of young players. If you look at their squad now, I believe in two to four years, they will be a team to be reckoned with in Southeast Asia. 
Cambodia right now have a big pool of players who are not afraid to play. Technically they are good and fast. Tactically, they have to improve though. They can move the ball fast, good strikers making runs. It's not like Cambodia 6-7 years ago where they only had 3-4 good quality players.
But now with a new coaching staff on board even their defence can deliver the pass very well, they can create chances, so you can see these kind of teams will only continue to improve. We have to be aware that these teams are catching us up and we have to improve our game. 
Everything points towards the vital match on Saturday against Myanmar. I'm hopeful and confident that Tan Cheng Hoe and the boys can deliver a big result for the country and for the fans. It will not be easy but like everyone else, I'll be the 12th man in the stadium and around the country looking to give the team all the help they need to reach the next stage.

(C) thethao.tuoitre.vn
Follow Goal Malaysia on Instagram