André Ayew
Abedi rules out sons return to Marseille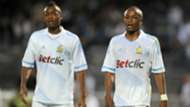 Marseille legend Abedi Ayew 'Pele' has rubbished rumours associating his two sons, Andre and Jordan, with an imminent move back to the club.
The duo made their professional breakthroughs with the Ligue 1 side before moving on, but having endured a challenging time last season, speculations are rife that the brothers, who both currently play in England, could head back to France.
Andre plays for West Ham United where he netted six times in 25 league appearances after a club record transfer last summer, while Jordan scored just once for Swansea City since joining the Jacks in January.
"Well, I think that it's just rumours," Abedi told the Graphic Sports.
"I have just come from Marseille and nothing like that has been raised.
"But you know in football, things happen so fast and we are still looking forward to the few weeks and days ahead of us".
Andre made his Marseille debut in 2007 and left the club in 2015, having had loan spells with Arles Avignon and Lorient in between.
Jordan, on the other hand, made his Marseille bow in 2009 before permanently severing ties with the club in 2014 due to limited opportunities.
Abedi, himself, played for the club between 1987 and 1993, leading the side to Champions League glory in his final year.