A-League
A-League expansion in Asia? Glory owner holds informal talks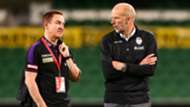 With A-League expansion back on the agenda following the election of a new look Football Federation Board, Perth Glory owner Tony Sage has reiterated his desire to see the competition add an Asian team.
As it stands the A-League will add two sides from six remaining bids that span across NSW, Canberra and Victoria. 
Sage however believes the FFA are set to tap into already over-saturated A-League markets and points to Asia as way to engage a much larger fan base. 
"There's four teams in New South Wales within four hours driving, so what you're really doing is your putting another team in Sydney, you're going to take fans away from the other two or three clubs that barrack, you're not expanding the audience," Sage told Macquarie Sports Radio.
"When you've got to our north, it's only believe it or not another half an hour for Perth to fly to Singapore or Kuala Lumpur than it is to Sydney or Brisbane.
"But you've got 300 million people in that region. Imagine if you had 300 million people watching, so a team in Malaysia, a team in Singapore, a team in Jakarta, and maybe one in Manila or maybe one in Hong Kong."
With Glory making a number of pre-season trips to the region in recent years, Sage revealed he has held informal talks about A-League expansion in Asia but admits he faces an uphill battle to get it done anytime soon. 
"I've have had informal talks," Sage said.
"We've done a lot of marketing and promotion of Perth Glory into Kuala Lumpur and Singapore, we've got very good relationships with the FA and the clubs.
"So, yeah I have had the informal talks but the big obstacle is FIFA and the AFC."