A-League
A-League clubs should be looking more at Japan, says Mark Milligan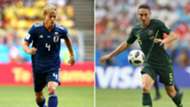 Melbourne Victory confirmed the capture of Japanese star Keisuke Honda on Monday with former club captain Mark Milligan surprised it's taken so long for the A-League to tap into the talented market.
Honda will be just the second high-profile Japanese player to grace the competition after Shinji Ono, who impressed for Western Sydney Wanderers between 2012 to 2014. 
Having himself played in Japan for JEF United Chiba and against the nation for the Socceroos, Milligan hopes Honda marks the beginning of the A-League investing more in the region. 
"Honda's a massive player and I think Shinji is the only other (high-profile Japanese player) who's played in Australia and I find that very surprising," Milligan told Goal at the launch of the Nike Phantom.  
"The amount of talent Japan have, not only in their national team but across the board, is amazing. 
"They do things very well in football from a young age and I think it's very important we are able to utilise it.  
"This is a good start. Shinji was fantastic, hopefully Honda can do the same and more Australian clubs look at it moving forward." 
The marquee signing of Honda was achieved with funds supplied by Football Federation Australia, who have stressed the importance of landing a big name this off-season.
Their support of Victory's pursuit of Honda was pivotal in a deal being struck and Milligan believes the sky is the limit when the two can work together. 
"It shows when the FFA and a club are willing to work together anything is possible," Milligan said. 
"It's not always easy to find that right addition." 
While Victory have found their man, Sydney FC remain on the hunt for a marquee of their own with Alvaro Negredo the latest to be linked to the club.