Australia
Robbie Kruse may not be the Socceroos best, but he deserves better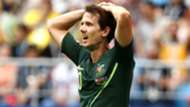 Say what you will about his performances in a Socceroos shirt, but Robbie Kruse is a player that deserves praise and not hate for overcoming a serious injury to represent his nation at a World Cup. 
If you're ever on social media during one of Australia's matches, Kruse's name is regularly thrown around in a horrendous and unnecessarily vulgar manner.
While his first touch can be frustrating, the winger is as smart as they come without the ball as he works his way into dangerous spaces and makes himself a menace tracking back.
Though a lack of end product isn't ideal and indeed sums up the Socceroos struggles in the final third, no player should ever receive the abuse he and even his family are now getting.
— Ray Gatt (@Gatty54) June 22, 2018
With Daniel Arzani breathing down his neck for a starting spot, the glaring social media spotlight has reached its most blinding and it's not the kind of attention Kruse deserves after a few years of heartache.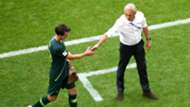 After missing out on the 2014 World Cup in Brazil through injury, the now 29-year-old also suffered an Achilles injury in the 2015 Asian Cup final as he was forced to see the Socceroos triumph in his own personal pain.
Though that injury only kept him sidelined for a few months, Kruse struggled to stay fit and made just 14 club appearances between 2015 to 2017.
Securing a full season in Bundesliga.2 with VfL Bochum, the former Brisbane Roar and Melbourne Victory man built himself back up scoring seven goals across 30 league appearances- double the number he managed across the past three seasons. 
Kruse also played his part in Australia's World Cup qualification campaign, making 14 appearances and scoring a goal as the Socceroos snuck into a fourth straight World Cup.
In Russia, he hasn't been the Socceroos best and probably should be replaced by Arzani for a crunch game against Peru, but it's a shame such a significant moment for Kruse and his family has been clouded by abuse. 
While criticism of a player's performance is inevitable and can be beneficial, the treatment of Kruse has crossed a clear line at a time when he should be most proud. 
After all, he earned his ticket to Russia and deserves respect not ridicule for making his World Cup dream a reality. How many of us can say the same?