Opinion
Advertorial: Bayern have the solution to transfer fee hikes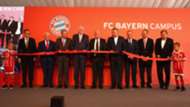 With everyone still amazed at the world record fee of €222 million, that Paris Saint-Germain (PSG) have paid for Neymar, what do the world champion's (Germany) top team, Bayern Munich, do?
Yesterday, they officially opened their new youth academy to develop their home-grown talent.
As I said it in my book, My Life, this is the best way for clubs and national teams to go – especially for clubs- in order to combat the crazy transfer fees that are asked for players these days.
The 'FC Bayern Campus' as it is known, took around two-years to be constructed and cost €70 million. It is in close proximity to Bayern's Allianz Arena stadium, where I have played many games against the mighty Bayern. I have been told by my ex-team mates that the campus covers 30 hectares, has a small stadium with seven extra practise pitches, speed hills, a fully kitted functional gym and accommodation facilities for sleeping up to 35 youth.
Clubs investing in youth academies for me is a no brainer – why wouldn't you? Look at the success of Manchester United's 'Class of 92'- with David Beckham, Ryan Giggs, Gary and Phil Neville, Nicky Butt etc?
Even recently, Southampton have done really well with their academy with producing players like Adam Lallana, Gareth Bale, Theo Walcott, Luke Shaw and more. To me this is money well invested and not thrown after big name foreign stars.
Here is a sobering thought: The €70 million that Bayern have invested in their youth academy is almost one-third of the €222 million that PSG paid for Neymar. In fact, even across the other Bundesliga clubs, more money is pumped into German youth development than into their senior teams. In addition, their standard of the Youth coaches are also high, as they are required to have a minimum UEFA B-license qualification and fulfil the role as a scout.
For me now as a UEFA qualified coach, this has been one of the main reasons that has motivated me to start up my own soccer school in Durban. I have seen so many South African teenagers come through the professional ranks but are lacking in basic skills that they should have learnt in their junior days.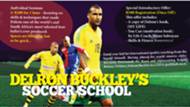 When I compare a German 18-year-old professional to a South African, the differences are vast. I am hoping through my soccer school to close this gap and equip our local future stars with the skills, knowledge and techniques that I learnt playing in the Bundesliga. These same skills have made Germany the world champions!
For more info on Delron or his soccer school www.DelronB.com