Young Africans
Yondani: Yanga have nothing to fear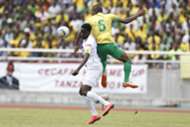 Yanga central defender Kelvin Yondani has insisted that his side has nothing to fear when they play Simba in their forthcoming Ligi Kuu match.
The arch rivals are expected to meet after the international break in the "match of the season" encounter which may decide the title race
Simba have had a good domestic season and are curently unbeaten in their last 20 games.
Speaking to Goal, Yondani said that Yanga is a big club and the squad love to play in such big matches, so there is nothing to fear about that game.
"We are in good shape of play, we can play with anyone, not Simba but any one, so we have nothing to fear," said Yondani.
Simba and Yanga where both eliminated from international tournaments on Saturday. While Yanga crushed out of CAF Champions League with Township Rollers, Simba were knocked out by Al Masry in CAF Confederation Cup.