Young Africans
Samuel Lukumai: Yanga will not repeat the same mistakes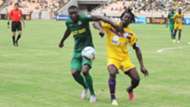 Yanga have claimed that they will not repeat the same mistakes that led to their elimination from the CAF Champions League on the hands of Botswana's Township Rollers.
The Jangwani Boys were knocked out after receiving a home defeat before forcing an away goalless draw in the return leg.
Following their exit from the Champions League, Yanga have been relegated to the CAF Confederation Cup where they have been drawn to play against Ethiopia's Wolayta Dicha after the international break.
 
Speaking to Goal, a member of the Yanga competition committee, Samuel Lukumai said that this time will they will try harder to get good results at home and then to fight tirelessly in the away tie.
"We will not repeat the same mistake, we will finish the business at home, we have already learnt our lesson and we will try hard to correct it" said Lukumai.
According to the draw which was conducted in Cairo, Egypt, Yanga will start the tie at home between April 6,7 and 8 and the return leg will be April 17 and 18.