Young Africans
Yanga drawn against Ethiopia's Wolayta Dicha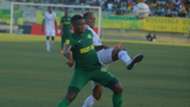 Yanga have been drawn against Ethiopia's Wolayta Dicha in the CAF Confederation Cup play-off round.
The draw which was conducted in Cairo, Egypt on Wednesday evening will see reigning Tanzania Premier League champions, Yanga face the Ethiopians to get a chance to qualify for the group stage of the competition.
The last time Yanga reached the group stage of this competition was in 2016 where they were placed in the same group with Medeama (Ghana), TP Mazembe (DRC Congo), Mo Bejaia (Algeria).
All first leg ties will be held between April 6, 7 and 8 and the return legs will be on April 17 and 18. That means the Ligi Kuu game between Simba with Yanga which was scheduled for April 7 will be postponed until further notice.
Yanga who were relegated to the tournament after being knocked out of the Champions League by Botswana's Township Rollers will host the Ethiopians in the first leg before travelling for the second leg ten days later.
Dicha who are in this tournament since the beginning have reached this round after eliminating Zanzibar's Zimamoto and Egypt's Zamalek.
In the first leg, Yanga are expected to be without some of their key players in the starting line-up such as Pappy Tshishimbi, Obrey Chirwa and Said Juma who have been suspended for that game after receiving second yellow cards in the game against Rollers.
Background of Dicha club
Wolayta Dicha F.C. (Also written as Wolaitta Dicha F.C. or Wolaitta Dicha S.C.) is an Ethiopian football club based in Wolayta Soddo and established in 2009 by the Welayta Development Association.
They are a member of the Ethiopian Football Federation and currently play in the top division of Ethiopian football, the Ethiopian Premier League. Most notably one player, Mubarek Shikur, has been with the team since the establishment of the club. 
They are the champions of the 2017 Ethiopian Cup which gave them the chance to play in the CAF Confederation Cup this season.