Videos
'Women's football is on the rise' - Early Man director Nick Park discusses his football film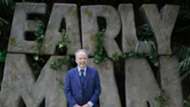 Aardman Animations' latest film 'Early Man' tells the story of the formation of football at the dawn of time when cavemen gather together to play the world's favourite sport.
Director Nick Park has won multiple Academy Awards for his previous movies and decided to focus on football in his newest creation.
The film is suitable for fans and non-fans, but supporters of the beautiful game will enjoy a lot of the references and Easter eggs throughout the movie.
Park spoke to Goal about the making of the film, how the idea came about and the influx of spending in the modern game.
He also discusses how one of the key characters in the game was influenced by the rise of women's football in the United States and its growth throughout the rest of the world.
Check out the full interview below.
Early Man is in cinemas now.