Manchester City
Why have Man City been charged by the FA, who's involved, and what will the punishment be?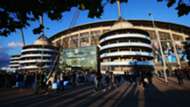 ---
COMMENT
---
Social media lit up on Wednesday evening when the FA announced it had charged Manchester City with a violation of its anti-doping regulations.
Man City charged by FA under anti-doping rules
But while Twitter whipped itself into a frenzy imagining all kinds of serious potential violations and punishments, the truth is considerably more mundane.
Goal understands City are unlikely to contest the charge, but sources believe they would only face a relatively minor sanction, most likely a fine, in the event that they are found guilty.
Here's the low down...
---
WHAT ANTI-DOPING RULES ARE CITY ALLEGED TO HAVE BROKEN?
---
It is alleged by the FA that City contravened regulation 14(d) of their anti-doping rules.
Regulation 14 stipulates that clubs under the FA's jurisdiction must maintain up-to-date records of training sessions, including start and end times and locations, as well as the current home or hotel address of its players. 
This information should be regularly uploaded to a database which is accessed by anti-doping agents, who then visit training grounds to conduct tests.
Section 14(d) of the governing body's code, which City have allegedly contravened, is explained thus:
"It shall also be a breach of this Regulation 14 by the Club if the information contained in such reports is either initially inaccurate or has not been updated by the Club as necessary to ensure it remains accurate."
It is understood, therefore, that City failed to properly maintain their records and any punishment forthcoming would be relating to an administrative error rather than a doping breach. 
---
WHAT WOULD THE PUNISHMENT BE IF FOUND GUILTY?
---
The FA operates on a "three strikes and you're out" basis regarding its anti-doping policies and it is believed this is where City have fallen foul.
League One side Fleetwood were also hit with the same charge as City at the same time on Wednesday afternoon.
As suggested by rules that are said to be broken, City wouldn't face a huge penalty if they are found guilty. Admin errors, basically https://t.co/Ice8EZKeYA

— Sam Lee (@Sammy_Goal) January 11, 2017
City have not commented on the charge but it is expected the club would receive a fine if found guilty, even though the alleged failure to maintain their records may have resulted in players missing a doping test.
Steven Flynn, barrister at St John's Buildings, Manchester, explains further: "The failure of Manchester City to update their information may seem like a simple administrative mistake, but the FA are likely to take this matter seriously. While there has been no suggestion that Manchester City or any of the players have tried to conceal the taking of illicit substances, the whereabout programme underpins the FA's anti-doping efforts. Any breach of these regulations, regardless of how minor it may appear, undermines the effectiveness of the regime, and the FA have acted swiftly to counter this.
"The FA has wide-ranging powers when it comes to punishment, from a reprimand or fine all the way up to a points deduction or even expulsion from the organisation itself. Given that this is the first time that Manchester City have been charged with this type of offence, as well as the administrative nature of the misconduct, a fine appears the most likely punishment."
---
WHY HAVE CITY BEEN CHARGED AND NOT ANY PLAYERS?
---
Manchester United defender Rio Ferdinand was banned from playing for nine months and fined £50,000 in 2003 for missing a drugs test, with the FA acting on the basis that a missed test was as serious as a failed test.
China's message to Premier League 'hypocrites'
The crucial difference regarding this case, however, is that the FA adjudged Ferdinand to have missed the test despite being told he must provide a sample.
Regarding City, it is understood any players who may have been absent when testers were at the training ground - as a result of any administration error - would not have been aware of their obligations.
As a result, it is the club that have been charged, rather than any individual players, and it is City's record keeping which is under the spotlight.