Manchester City
'Why did you lead with your f***ing right leg?!' - Guardiola's hilarious reaction to Mendy injury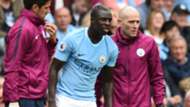 Manchester City defender Benjamin Mendy has revealed manager Pep Guardiola's hilarious reaction to him suffering a serious knee injury.
The former Monaco full-back is expected to be out for around six months having undergone surgery on the anterior cruciate ligament in his right knee.
Mendy suffered the injury while making a tackle in City's 5-0 win over Crystal Palace, and admits the injury was likely due to him leading with his right leg.
That led Guardiola to crack a joke at his expense despite having lost one of his biggest summer signings for the majority of the campaign.
"When I defend on my side, I always put my left leg ahead, it's the strongest one," he told L'Equipe. "This was the first time in my life that I was defending with my right leg.
"The next day, Pep called me and said 'Have you done your cruciate ligaments?' I told him 'No, it's not that ... stop being sad' as the diagnosis had not been made yet.
"He said to me 'Wait, there's something I don't understand, why did you put your f***ing right leg in and not the left?!'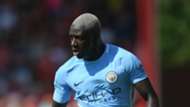 "Mentally, this injury has made me change. I am in the first month of recovery, and that is the hardest.
"I feel that I have already evolved. I can only learn from everything and come back even stronger."
Despite not being on the pitch as much as he would have liked, Mendy has still been making an impact with his Twitter account one of the most popular within the Premier League.
His description of City as a 'Shark Team' has led to many inflatable sharks being seen in the crowd at the Etihad Stadium while he has singled out almost all of his team-mates for special praise at one time or another.
Perhaps his most infamous tweets, however, came from his hospital bed in Barcelona ahead of his knee surgery, as he claimed one of the nurses was the spitting image of Stoke City forward Jese Rodriguez.
Going to surgery with @JeseRodriguez10 !! what a small world pic.twitter.com/WdC8mAGW4z

— Benjamin Mendy (@benmendy23) September 29, 2017
But the 23-year-old played down his playful antics, and instead focused on those who he met in hospital that are not as lucky as him.
"For me, what happens is not a drama. The nurse looked like Jese, I took my phone, I filmed it. If I could take my phone in during the operation, I would have done worse, but it was forbidden!
"It's a cliche, but there are things that are far more serious. When my friends came to my hospital room, they told me that the people in the next room were crying.
"When I was able to walk, I went to talk to these people. The person had incurable cancer. I was just there for my knee - it's nothing."