Arsène Wenger
'Wenger must go' - Arsenal fans round on manager after Bayern Munich defeat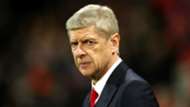 Arsenal manager Arsene Wenger's position at the club was under threat heading into his side's Champions League encounter with Bayern Munich, but a 5-1 drubbing in Germany has added further weight to those calls.
The Frenchman only has a contract until the end of the season and, despite managing the club for 21 years, fans are starting to grow tired of the three-time Premier League winner.
Many posted foul-mouthed insults of their long-time boss, with others simply demanding that 'Wenger must go' on their Twitter accounts.
Wenger must go, that will get me legitimately excited for Arsenal's future, time will start moving again after years of mediocrity.

— Rafael Hernández (@RafaelH117) February 15, 2017
Arsenal Fans "Please resign Wenger!"

What he hears "Please re-sign Wenger!" pic.twitter.com/DE3zHw8DIL

— TheArseneView (@TheArseneView) February 15, 2017
Wenger raised the bar but sadly, he can no longer reach it himself. It's time to hand over the reins. #afc

— Pablo (@AFCAMDEN) February 15, 2017
PLEASE JUST RESIGN NOW! #WengerOut pic.twitter.com/OTHB1xzZPi

— Essex Gooner (@EssexGooner1) February 15, 2017
A team with no fear of their manager, who both expect and accept failure. Arsenal are not realistically aiming for success under Wenger.

— gunnerblog (@gunnerblog) February 15, 2017
Wenger deserves credit for the first years but I genuinely believe players like Vieira & Adams won the titles for Arsenal, not the manager.

— TikiTakaConnor (@TikiTakaConnor) February 15, 2017
"I've supported this club for years, but I can't do it anymore, fam. It's over. Wenger's got to go, bruv." - Anonymous ArsenalFanTV guest pic.twitter.com/mIyIW0idp1

— Maxi Rodriguez (@FutbolIntellect) February 15, 2017
"For the club" #WengerOut pic.twitter.com/vNctyb6D7i

— TwoYellows (@TwoYeIIows) February 15, 2017
Wenger is a good man. It's just time to cut the umbilical cord between fans and a man who gave them so much.

10 years ago.

— Stan Collymore (@StanCollymore) February 15, 2017
Wenger is now 8/1 to be the next Premier League manager to be sacked.