Ghana
We'll be family after 90 minutes, Jordan on facing Andre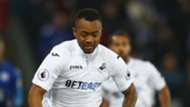 Swansea City striker Jordan Ayew is relishing facing elder brother Andre in the Premier League clash with West Ham United on Saturday.
Born to Ghana legend Abedi 'Pele', the brothers will be the centre of attraction at the London Stadium, as was the case in their meeting last season.
Jordan and Andre, then with Aston Villa and Swansea City respectively, both found the back of the net as the Jack Army picked a 2-1 away triumph.
"I played against Andre in France a few times, and of course last season when Swansea played Villa," Jordan said, as reported by his club's official website.
"It was weird at first but we are used to it now.
"We are really close as brothers but when the game starts, I have to defend our club's colours and he will do the same.
"We obviously speak a lot because we are family, but when we are in the tunnel, we will be focused on our game.
"We know how important three points are to our teams, so we will do our best for our teams.
"Then, after the final whistle, we will be family again."
Jordan, however, faces a stern battle to make Swansea's starting set-up owing to the return of fit-again striker Fernando Llorente.
The 25-year-old joined the Jack Army from Aston Villa in January, and has so far made seven league appearances.