We want to prove a point, says Nasarawa Amazons' Micheal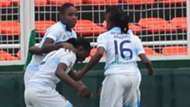 Nasarawa Amazons assistant coach Oluwaseyi Michael says his side are trying to make a mark at the Nigeria Women Premier League Super Four tournament in Benin.
The Lafia based side progressed to the final after victories over Bayelsa Queens and Rivers Angels respectively in the round-robin championship.
And the gaffer stressed that he is confident they can maintain their hundred percent start when they face Delta Queens in their final group encounter.
Editors' Picks
"I'm happy with the performance of the players from the beginning of the competition after two games," Michael told Goal.
"They have shown great determination and character we expected from them. I'm very proud of them, though I expect more in our remaining two matches.
"It is not easy playing Bayelsa Queens and the defending champions Rivers Angels in our opening two games but the players played to instructions and delivered the victory.
"In our first game, I told the players they needed to avoid losing to Bayelsa Queens after they defeated us in the Federation Cup round of 16. To do so, I advised them to try and score from any chance they see because they problem we had when we met them in the Federation Cup was that we were not taking our chances which they did.
"Against Rivers Angels, we needed to break the jinx of losing to them all the time in the Federation Cup and league matches. I told the players to attack them early enough in the game and force them to commit mistakes. I was happy our game play worked out in the match.
"Now, we are in the final already, we still want to win all out games including our match against Delta Queens. Our plan is not only to win the competition but trying to prove a point."