Ghana
'We had all chances to nail Nigeria' - Tagoe boasts after Ghana win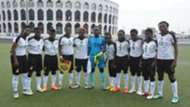 Having secured a 5-4 penalties win over Nigeria, Ghana women head coach Mercy Tagoe claims her side had all the chances in the world to defeat their arch-rivals in Abidjan.
Faustina Ampah's strike canceled Alice Ogebe's opener as the Black Queens edged past the Super Falcons to qualify for the Wafu Women's Cup final on penalties after a 1-1 stalemate.
And the Ghanaian ex-international hailed her girls for playing to instructions and showing great determination to silence Thomas Dennerby's ladies.
"I was really ready for a difficult match. Prior to this game, I said in various interviews I granted that I really wanted to play Nigeria in the semi-final," Tagoe told Goal.
"That's because I have seen what they could do and could not. In fact, I had strongly believed that we could beat them and I'm happy that's what happened.
"The standard of play from both teams was very high. But we were slight a bit ahead of Nigeria though they were mentally tough. I had to psyche my girls that what Nigeria was doing, we could do better.
"Honestly speaking, we had all the chances in the world to nail Nigeria in the latter part of the match but you saw Nigeria stood their grounds to deny us.
"I was sitting on my toes when it came to penalties. Penalties are anybody game. But when my goalkeeper saved Nigeria's first kick, I said God give me the reason to rejoice and he did."
The Black Queens' victory over Nigeria rewards them with a final clash with Cote d'Ivoire at the Robert Champoux Stadium on Saturday.