Goal United
We Are Young Bafana: Simba's first step towards a professional soccer career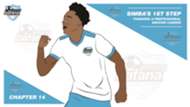 We are Young Bafana
Chapter 14
Simba's first step towards a professional soccer career
Looking across the field from his position as midfielder, Simba saw that the opposition had allowed gaps in their formation to appear which his team could use to their advantage. Being ambidextrous when dribbling, made him a player who kept his opponents guessing. However, it was his ambidextrous goal scoring which was his true secret weapon. Simba played a one-two with Sipho leading the team into a better attacking position. He found the perfect spot to score from and waited for the ball to connect with his non-dominant foot and sail around the goalie to score his second goal of the game.
Simba looked up and saw John smiling from the sideline. Never one to yell at the players, John showed his approval by giving Simba a quick nod. John looked serious as he stood chatting to two men Simba had never seen before. Competing in the Engine Cup had been both challenging and rewarding. It had been a great honour to captain the side and Simba was proud of the way he had led his team.
The game progressed with Simba's team continuing to dominate in possession. The opponents were forced to chase the ball as Young Bafana played a flurry of short passes to advance to the final third. Finally, the whistle blew and the U18 Young Bafana team whooped as they celebrated their victory of not only this game but of the tournament as well. After so many months of drilling and coaching sessions, the team would now celebrate their victory by enjoying ice creams on the beach front. They loaded into the Young Bafana bus and set off home.
Of course, the boys' soccer ball went with to the beach and a game quickly began once all the ice cream had been eaten. John quietly called Simba aside.
'Well done on leading your team today, Simba.'
'Thanks Coach, it was a great game!'
John looked at Simba and smiled. He went on to ask him whether he has seen the two men that he had been chatting to during the game. 'Yes', replied Simba.
'Well, they were scouts from Langa Strikers and they really liked what they saw.'
John went on to tell Simba how impressed the scouts had been at how easily Simba anticipated where the ball would be at any given moment. They had loved how agile and quick off the mark he was. Ultimately though, what had made him stand out was that he was technically a very sound player. And just the sort of player they invited to spend a few weeks training with their diski team in Pretoria.
Simba could not believe his ears. Could John really be telling him that he had been invited to spend two weeks at the Langa Strikers training grounds playing the game he loved most in the world? Was this truly the first step in his journey to becoming a professional soccer player? So many thoughts buzzed through his head at one time. But the one that stood out above the rest echoed what John had said as they'd finished their conversation.
'This is the beginning. And it's a beginning based on hard work and determination. And that, Simba, will continue to take you far, whether it be in this arena of life or another. You can do this.'
Looking out at the ocean, Simba took a breath. It had been a hard couple of months. And some days had been dark indeed. But here he stood ready to take the next step in his journey. He would do this. He would make it. And he would do it remembering the faith and pride which John had always shown him. The pride he had in fact shown in all the boys at Young Bafana Soccer Academy.
We are Young Bafana is a collaborative project between Goal.com and the Young Bafana Soccer Academy. This is a fictional story loosely based on real-life events and experiences of the community of Lwandle, a township in the Somerset West area in the Western Cape.