UEFA Champions League
Watch the UEFA Champions League draw LIVE in Southeast Asia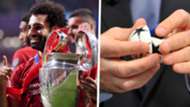 The 2019-20 European season is upon us. The UEFA Champions League is set to unfold soon and to start it all off, we have the group stage draws for the tournament coming up.
The biggest names in European football will find out who they will have to battle past in the group stages before progressing to the knockout stages. We have the teams seeded in various pots and the teams will be drawn accordingly.
The draw for the Champions League will be streamed LIVE in select countries on DAZN's social channels.
---
When is the draws?
---
| Tournament | Date | Time (MY,SG,PH,BN) / Time (TH,LA,KH) |
| --- | --- | --- |
| UCL Draw | Aug 29 | 12 midnight / 11pm |
Which teams are in the Champions League group stage draw?
The Champions League group stage draw will involve 32 teams, who will be divided into eight groups of four.
Twenty-six teams qualify automatically for the group stage, with the remaining six spaces taken up by those who came through the qualification stage.
Teams are seeded in four pots based on their UEFA coefficient, which you can see below.
Pot One is made up of the Champions League and Europa League winners - Liverpool and Chelsea - as well as the champions of the top six associations.
Joining Liverpool and Chelsea in Pot One are Barcelona, Manchester City, Juventus, Bayern Munich, Paris Saint-Germain and Zenit.
The likes of Real Madrid, Atletico Madrid, Borussia Dortmund and Tottenham are in Pot Two, while Inter, Bayer Leverkusen and Valencia are among the teams in Pot Three.
RB Leipzig, Galatasaray and Atalanta are among the eight in Pot Four. Of course, this season there are some notable absentees, including Manchester United, Arsenal, Roma and Celtic.
The exact draw procedure will be confirmed by UEFA ahead of the ceremony.
When do the Champions League group stage games start?
The 2019-20 Champions League group stage kicks off on September 17 and 18, 2019.
Group stage games will continue for a total of six matchdays, with teams playing each other home and away.
The dates for matchday six - the final round of group stage matches - are December 10 and 11.
---
Watching the UCL draw in South East Asia
---
DAZN , as official digital broadcaster in SouthEast Asia, will be LIVE streaming the draw to its users in select countries.
Watch the match on DAZN Thailand's Twitter and YouTube pages - in Singapore, Malaysia, Brunei, Laos, Cambodia, Philippines and Thailand.