Arsenal
WATCH: Pogba's Palace, Sanchez's Panenka and the top 5 Pressure moments of the season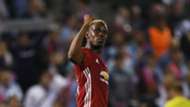 It has been another intensely-fought Premier League season from top to bottom.
From Paul Pogba's Selhurst Park heorics to Alexis Sanchez's Panenka, The Goal Pressure Index, presented by Sure and powered by Opta data, allows us to pick the key moments from a thrilling campaign that have seen players step up and make the difference for their teams when they needed them most.
Pogba may well have lacked some consistency following his world-record return to Manchester United last summer, but the Frenchman produced an undoubted masterclass against Crystal Palace in December. He had four shots and created four chances as he hit a vital equaliser before creating an 88th minute winner for Zlatan Ibrahimovic.
Third last season, second this season, and unbeaten in their final campaign at White Hart Lane, Tottenham Hotspur are a team on the rise. 
And there was no better example of how they overcame the pressure to keep runaway leaders Chelsea in sight than their 3-1 win at Swansea, when all three of their goals arrived from the 88th minute onwards.
Liverpool, meanwhile, have also impressed when up against it this term. They now look set to secure a return to Champions League football after winning a mightily impressive 18 points from games in which they've trailed this term.
Chelsea's Michy Batshuayi also overcame the Premier League pressure in impressive fashion when he turned in a league-winning performance from the bench to net the winner against West Brom in May.
But Alexis Sanchez tops the Premier League pressure moments this season for his ice-cold nerves in converting an injury-time Panenka penalty.
His chipped finish earned all three points for a struggling Arsenal side against Burnley, with what was the latest goal in the league this season at 97 minutes and 14 seconds.
The Goal Pressure Index is presented by Sure, Official Partner of Chelsea FC, Everton FC and Southampton FC. Join the conversation on Twitter @Sure.