UEFA Champions League
WATCH: Arjen Robben hits stunning shot to put Arsenal behind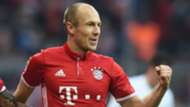 It's not a surprise that Arjen Robben likes to cut inside.
However, apparently the Arsenal defense missed the memo as it granted the Bayern Munich attacker loads of space to do just that in the first leg of their Champions League clash at the Allianz Arena. 
Valentine's Day massacre for Barcelona
Editors' Picks
Robben was allowed the come inside from the right and granted acres of space to do it. He took full advantage, hitting a left-footed curling blast into the top corner, leaving Arsenal keeper David Ospina with no chance.  
Stop it, Arjen Robben! You just can't stop that left foot. #UCL #FCBARS https://t.co/sbh0SDNtwl

— FOX Soccer (@FOXSoccer) February 15, 2017
It was a great shot to be sure and when Robben likely doesn't hit a blast that perfect every time. However, you can't help but feel Arsenal should have seen it coming.
This is a map of Arjen Robben's most common runs on the ball. (Size of arrow represents number of similar runs.) pic.twitter.com/5MUkFtIWnx

— Michael Caley (@MC_of_A) February 15, 2017
The good news for the Gunners is that Alexis Sanchez put home his own penalty miss later in the first half, to equalize the proceedings for Arsenal and get the side a potentially crucial away goal.
Third time's the charm for Alexis Sanchez and Arsenal! #UCL #FCBARS https://t.co/4IwwAjhLnc

— FOX Soccer (@FOXSoccer) February 15, 2017